Competitive Keyword Research
Spy on your competitor's top keywords
Whether you're starting a new site or looking to fill the gaps in your content, it pays to know which keywords are driving results for your competition. See exactly which terms your competitors rank top for, and find those elusive long tail keyword modifiers and synonyms that are generating results for them on the sly.
Build lists of their top keywords and pass them to your writers to create stellar content and increase the range of keywords you rank for.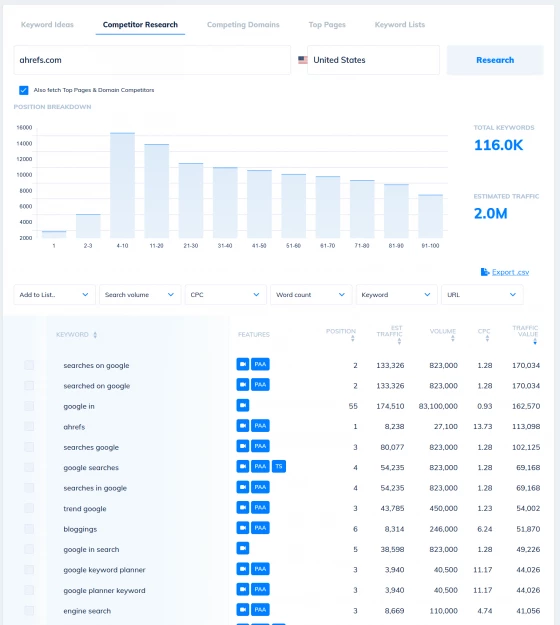 Top Pages Report
Discover their most important content
Find the top pages on your competition's site, and see which of their articles are driving significant organic traffic to their site. Go beyond the head terms and title tags and dig into the long tail terms their content are driving to their site.
Use your insights to plan new articles and sections for your site that can outshine and outrank your entrenched competition - then use our content optimization tools to ensure your content is richer and more indepth, marking you as the most authoritative source on the web.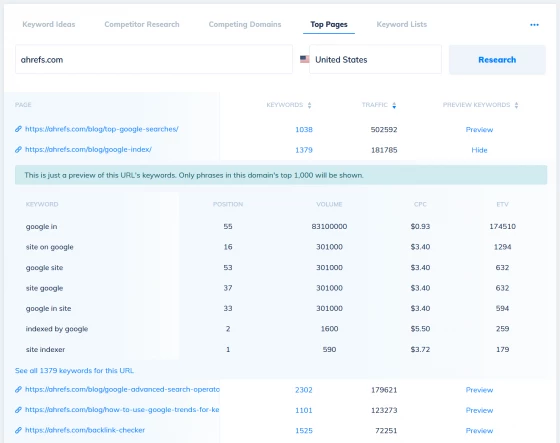 Find Competiing Domains
Explore the top sites in your niche
Whether you're a newcomer to a niche or an old lag it pays to understand who is competing on your turf. Use the competing domains feature to discover sites that are writing content on your topics - whether they directly compete with you or mention you in passing.
Use the keyword overlap meter to find the most relevant competitors, then explore the keywords that are unique to their site to discover brand new ranking opportunities.
.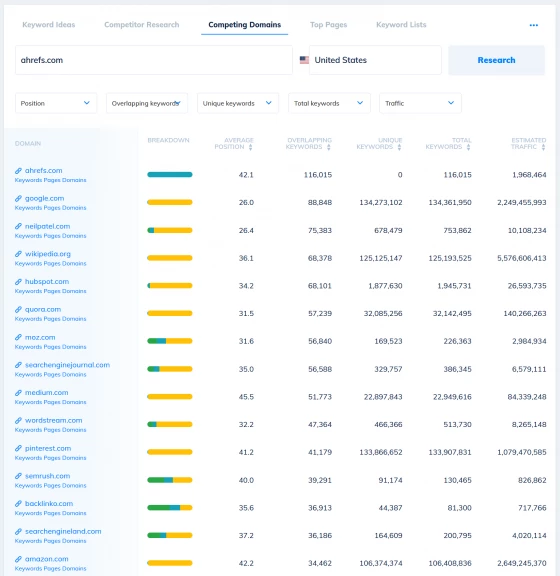 Cover your content gaps and boost your relevance
Keyword research can be overwhelming and it's easy to overlook valuable sub-terms and long tail variations in your niche. By digging into your competitor's top keywords and content you can find the gaps in your own offerings.
Find related keyword ideas outside of your main terms by analyzing the varying ways your competition describe their own products and services