Who doesn't like discovering new things–especially when there's a good outcome? Maybe it's a cafe that sells heavenly donuts or a local park where you met the love of your life.
Maybe, it's low-hanging fruit (i.e., easily optimizable long-tail keywords) you found through Google's Search Console that boosted an old blog post's organic traffic by 7x (fingers crossed).
Unfortunately, keywords don't come to you in a flyer–you have to go looking for them. So when you do need to target new question keywords, the Google Search Console is a phenomenal tool to start with. Your mission, should you choose to accept it, is discovering question keywords and other low-hanging fruit in your Search Console data to write and rank for easily.
However, there are certain limitations to this tool. It does not really have SEO's in mind, and it can take quite some time to trawl through data to find keywords that you can readily target. Fortunately, a SEO rank tracking platform like SEO Scout can reveal keyword opportunities that can take hours to uncover using the Search Console.
In this guide, you'll learn:
What Is the Google Search Console & Why You Should Use It
Important keywords to find in your Search Console data
The limitations of using the Search Console
How to use SEO Scout to find keyword opportunities, including low-hanging fruit, question keywords, and other types of long-tail terms
What Is the Google Search Console & Why You Should Use It
The Search Console is a free online marketing and search analytics tool provided by Google. You can use it to find data on the most critical metrics in your SEO strategy:
1.

Total clicks. Yeah, you guessed it: this is how many times users have clicked on your listings.
Total impressions. This is the number of times that pages from your website have appeared in the search results. Side note: this includes listings "below the fold," aka links that the user would have to scroll down to see.
Click-through rate (CTR). Total clicks/total impressions. This ratio gives you an idea of how many people are actually clicking your link and not just seeing it.
Streamlining your SEO data by connecting Google Search Console to your Google Analytics account highlights critical areas of improvement and ranking opportunity. For example, you can find question keywords and low-hanging fruit that you can make a few updates to optimize and see a surge in site traffic for them.
Important Keywords in Your Search Console Data
Google Search Console is excellent for harvesting question keywords your audience is asking, although it's limited to the ones your site is already ranking for (more on how to overcome this and find long-tail keyword opportunities later).
are great because they're high-traffic long-tail queries that are easier to rank for, build topical authority, and aid conversion by guiding the customer through the funnel. To manually filter search queries by
question
words, you can set Search Console to show long-tail keywords that start with words such as "who," "what," "where," or "when."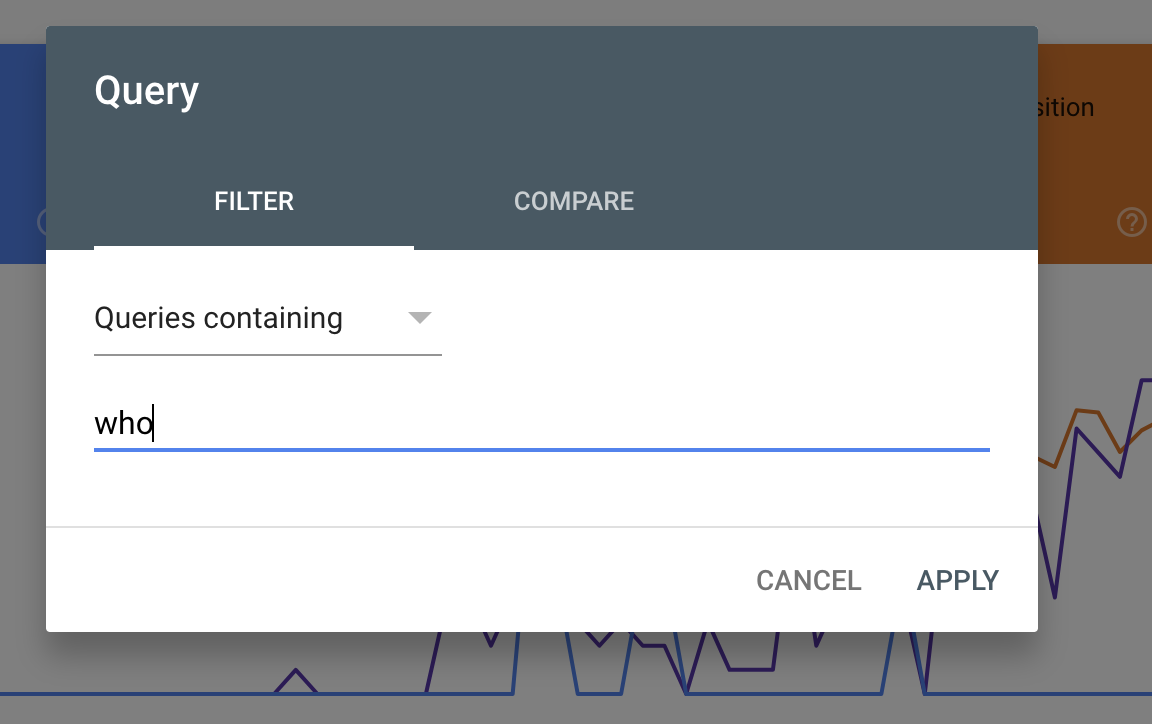 You can sort your pages by greatest to least impressions. From there, you're able to examine the keywords that are on the 2nd or 3rd page (rank 11-30) in search results. Those are your 'low-hanging fruit' keywords that you can better optimize your content for to match queries and surge traffic easily.
The search queries by position to the range you're interested in:
6-10 if you want to climb higher up page 1.
11+ is low-hanging fruit.
Going Beyond Search Console Results
Google Search Console is a great free SEO reporting tool. But it does have some limitations. You may want to invest in a proper, all-rounded SEO rank tracking tool like SEO Scout to gain a real competitive advantage with SEO Performance. Why?
Search Console's data isn't clearly and intuitively shown and the interface is difficult to navigate. SEO Scout, on the other hand, can show you the search impressions and changes in ranking over time in an easy-to-track manner.
SEO Scout also allows you to quickly filter certain types of keywords in a few clicks, including questions, high-volume striking distance keywords, and other types of keyword opportunities to help you get search traffic through minor tweaks.
At the same time, a tool like SEO Scout also allows you to find pages with thin content that you can easily beef up to (hopefully) quickly rank on the first page for relevant terms and get precious SEO traffic. The Search Console does not have any way to diagnose thin content.
How to Use SEO Scout to Find Question Keywords, Low-hanging Fruit, and Striking Distance Opportunities
If that sounded like a lot of work, you're not wrong. Using the Search Console can be tedious, complex, and tiring. Not to toot our own horn too loudly, but with SEO Scout, you can see all queries you're ranking for but not explicitly targeting yet. Integrated with your domain's Search Console, here's a step-by-step on how you can find valuable question keywords:
Visit the Page Performance tab on the left panel and filter for *Content Metrics.* Now, you're met with all your web pages. Click on one for page-specific metrics.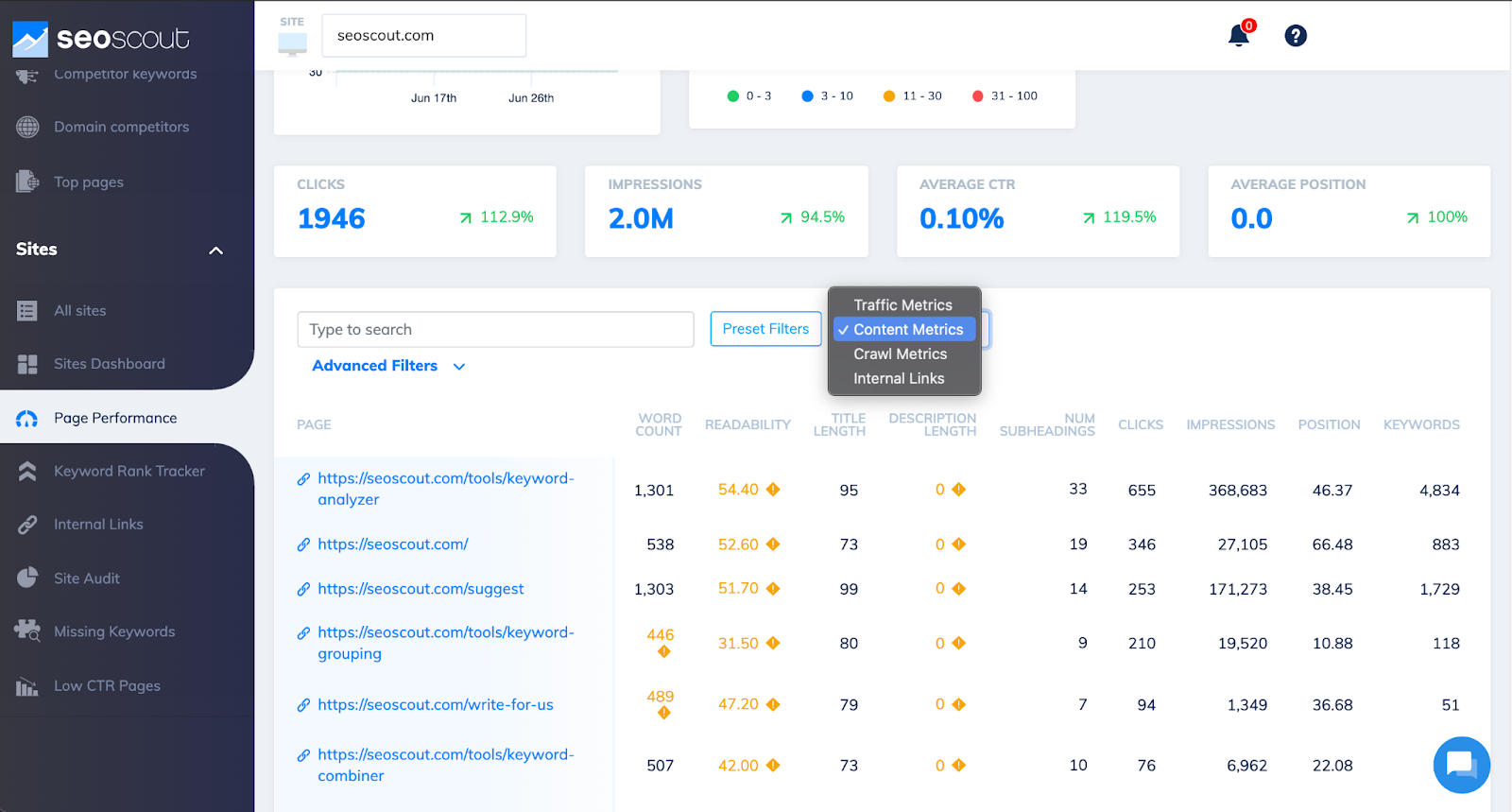 Once you're at the page-specific dashboard, you can scroll further down for a list of keywords. But, since we're trying to discover the questions users are asking to find your site, we're going to fast-track the process by clicking Preset Filters. That's right, no typing in "who," or "what," to filter. Just click on the button to find the question keywords your site is ranking for–be it the 3rd page or 13th. It's not dependent on user action, unlike Search Console.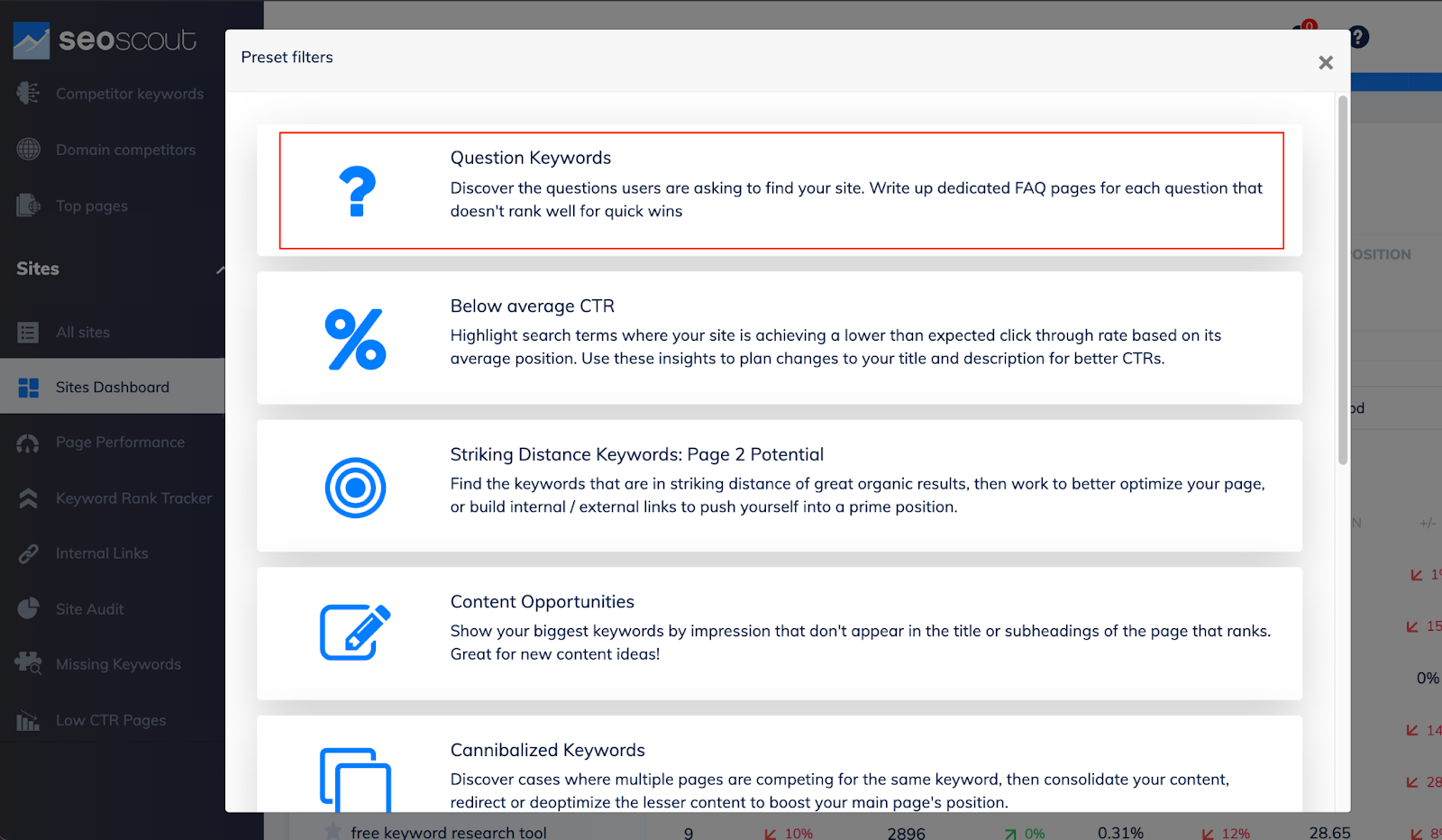 Select *Question Keywords.* Keep in mind that some web pages that you filter for "question keywords" won't show many question keywords. This is due to the nature of the content and purpose of that page, they're simply not meant to rank for questions. For example, don't expect to find "how to use rank tracker" on the pricing page's keyword stats.

These long-tail keywords are low-hanging fruit opportunities that we could create specific content about or add into the FAQ section to explicitly target them. For example, "how to use Google trends" is a question users are asking to find your site. So, we can increase our chances for a featured snippet by answering it explicitly under a subheading or FAQ section.
We tackled one area of low-hanging fruit (LHF) and that's long-tail question terms for a specific page. The second part is LHF keywords that are ranking between positions 10 and 20 in search results. These keywords are in striking distance of great organic results, optimizing for them can push you to a prime ranking position.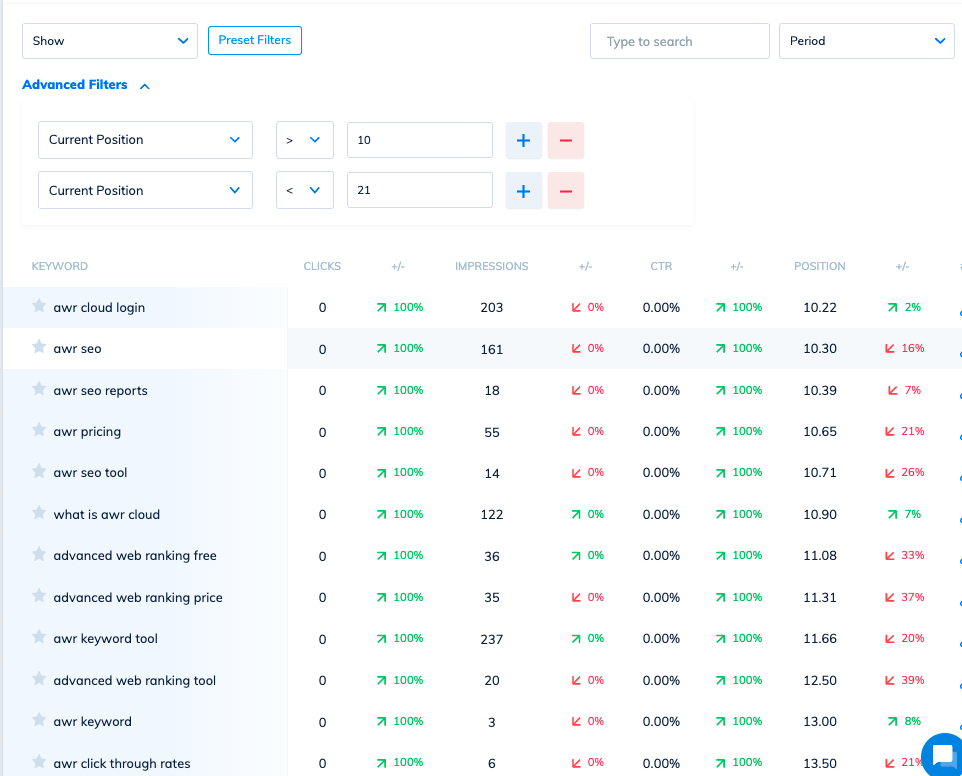 So, just like that, by looking at the keywords your content is already ranking well for, SEO Scout uncovers long-tail keywords and variations that you can leverage to boost traffic to your website quickly.
Going beyond just the question keywords that your site is appearing for, you can find inspiration for new content or find high-volume queries people are searching for on the internet with SEO Scout, too, by using our competitor keyword research tools.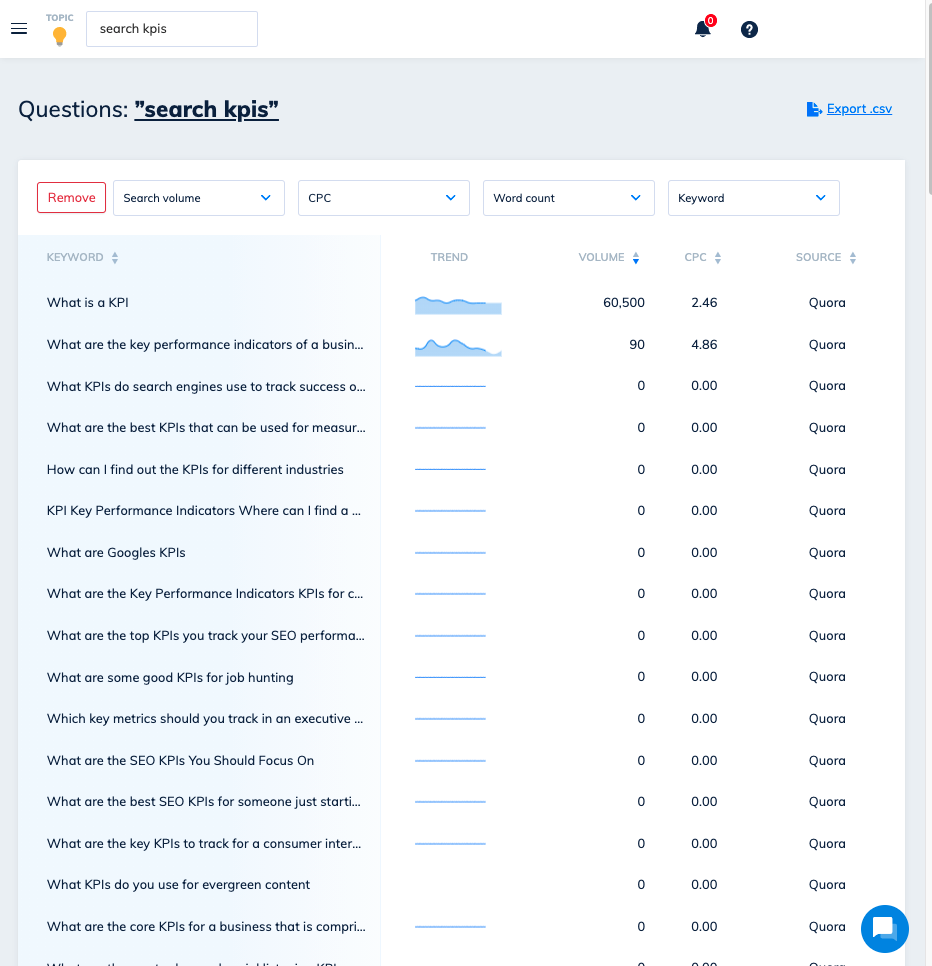 Your Key Takeaways
Using Search Console can be a starting point to tracking your keyword rankings, but it has its limitations. The data presentation is complicated and navigating the interface is difficult.
SEO Scout provides a better and more intuitive way to track your keyword rankings and discover keyword opportunities to significantly increase your search traffic.
People use question keywords whenever they type a complete and specific question into Google. These long-tail terms are less competitive but are known for higher conversion rates and are easier to optimize and rank for.
Low-hanging fruit (LHF) keywords need a little push to surge organic traffic to your site. They can be a question keyword or long-tail term ranking between search positions 10 and 20–having page 1 potential.
SEO Scout's Question Keywords filter and Striking Distance Keywords both help identify low-hanging fruit that can be better optimized to push those pages into prime position in one click. If you're searching for new content ideas or optimization, look for questions and long-tail keywords within those lists. There are surefire topics to write about.
Parting Words: Why Finding Keywords from Your Search Data Is Important
Your SEO strategy should constantly be adapting to new trends, best practices, and user feedback. But it should also be sustainable.
Leveraging your Google Search Console reports and going even further with SEO Scout, you're smartly generating SEO content, improving your SERP rankings, and providing value to your users at the same time. Best of all, it's a strategy for winning long-term.
So take your dog for a walk, try a new espresso, and let your audience be your muse. Let's go keyword hunting.