4 Best SEO Reporting Tools in 2021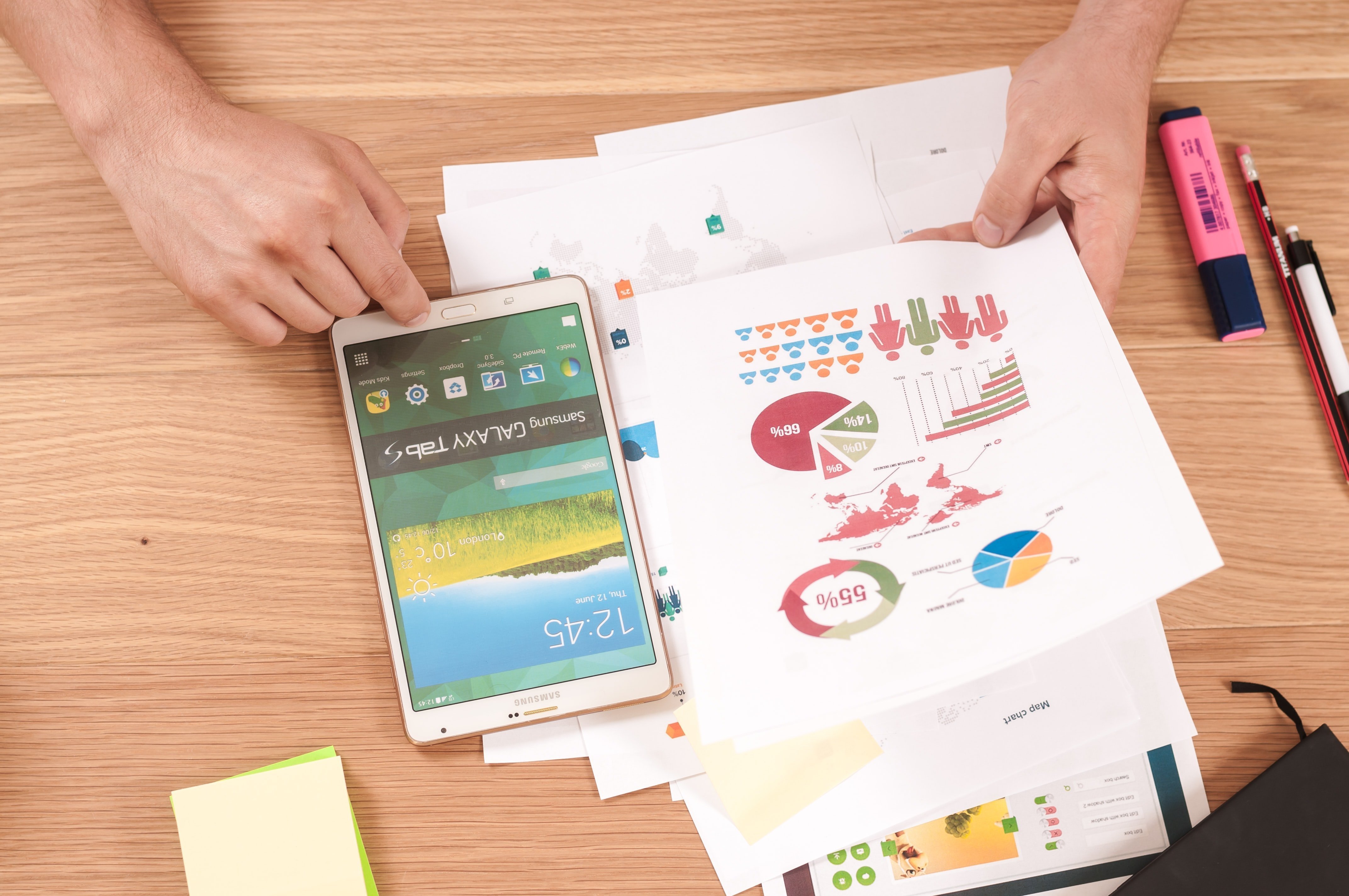 So, you finally woke up and decided to arm yourself with the industry-leading SEO reporting tools. Congratulations, you took the first step in getting on par with your competitors. We're confident that you'll soar past all of them with zeal.
Listen, we get it. There are just so many SEO reporting tools these days. And most of them require a hefty investment. You just want to make sure that investment is worth it.
Whether you're in an agency or part of an in-house marketing team, to help you choose the best SEO tool for yourself and your clients at a reasonable price, we conducted our own audit (pun intended) to bring you the top five SEO reporting tools in 2021.
Spoiler alert (or time-saver depending on how you see it): we ranked SEO Scout as the overall best SEO reporting tool based on several factors we'll cover. Of course, it depends on your specific needs, so read on to find out what each tool excels at and how they can help you specifically.
Why SEO is important for content marketing
Content marketing without search engine optimization (SEO) is like a body without a soul. Technical SEO requires a couple of things to strong-arm your marketing content for organic traffic:
Following the SEO best practices above will surge your inbound leads through more organic traffic, which, on average, yields a 14.6% conversion rate. In contrast, outbound leads (you go to the people, direct mail, or print advertising) produce a 1.7% conversion rate.
When you go to people through paid outreach, you have less chance of converting because they're less ready for purchase (or another conversion). But, with proper SEO in your content marketing, you naturally pull the searchers with purchase intent to your site and get more conversions.
Of course, that's not easy stuff. SEO requires meticulous research, build-up, and constant monitoring. That's why there are powerful SEO reporting tools that streamline the optimization process and ensure quality content for you.
What to look for in your SEO reporting tool
There are some key features that you should look out for in your next SEO reporting software. The best tools will have the following; let's go through them:
Ability to handle scalability & automation
Imagine this: you work hard leveraging your current SEO reporting tool, and your agency or business reaches a new tier with steady growth. More clients, more data, more load. You've just gotten used to your tool, and now you must move to a new SEO software that can handle the new workload.
Getting used to a new user interface is such a hassle. The best SEO reporting tool will work just as well for one client as it does for 500. You just need a robust database and a tool that can handle thousands of automated reports. Strong-armed with natural language processing and machine learning, you'll be guaranteed valuable SEO content.
Strong Suite of features
Of course, there are some absolute must-haves that you need in your SEO reporting software. If the following isn't in your arsenal, your SEO performance will sell short because it will be missing some core tools that will surge your organic search traffic:
Like the ones we included in this listicle, the best SEO reporting tools will have most of the features listed above.
Constant updates and improvements
SEO is constantly evolving. So, why shouldn't your reporting tools? New features, listening to customer feedback and adapting to search engine algorithms are imperative to ensuring SEO success with your tool.
Customizable and exportable reports
Every client has different priorities and key performance indicators (KPIs) set in place. Customizing SEO reports to reflect the client's specific needs is crucial for keeping clients informed and updated. Your SEO reporting software should emphasize relevant data and make it easily accessible for the client to view and go deeper from an available client-side dashboard.
Even if clients have unrestricted access to the SEO performance dashboard, you want to make reports as accessible as possible–that means offline access. Exporting data through PDFs, CSVs, XLS, or emails that can be edited or changed at the client's leisure is a crucial cherry-on-top.
Integration with third-party services
You want to ensure your search engine optimization software integrates with the best data tracking and reporting tools out there, like Google Analytics, Google My Business, & Majestic.
The capacity to have SEO reports on all KPIs in one place is essential for full-scale digital marketing campaigns.
Without further ado, let's go over the top SEO tools that you can use in 2021:
SEO Scout

SEO Scout arms you with a range of powerful tools like site analytics and auditing, keyword optimization, and testing. It's an all-in-one package, and that's why we ranked it #1 on our list. We've also gone in-depth with the SEO features to justify our decision adequately.
For freelancers or casual users, starting at USD 49 per month (or you could save $98 by signing up for the annual plan: $490), you can track unlimited keywords and use the optimization tools for up to 10 articles per month for better search rankings.
No matter which plans you choose, you will receive SEO content audits to examine current performance and gain insight into improving. You can get up to 1000 pages crawled for the starter pack (10,000 for business, 500,000 for agencies) for indexing as well.
Key features of SEO Scout
Integration with Google's keyword rank tracker
Connect your Google Search Console to SEO Scout and monitor which keywords are bringing in the most traffic to your site and double down on them
Get a score on your keyword relevance and readability while maintaining an optimal range for each keyword. With the keyword highlight tool, you can monitor and balance the concentration of keywords in each paragraph for clarity and ranking optimization.
The keyword list also indirectly helps you plan your content outline. You'll know what to talk about and organize your headers accordingly.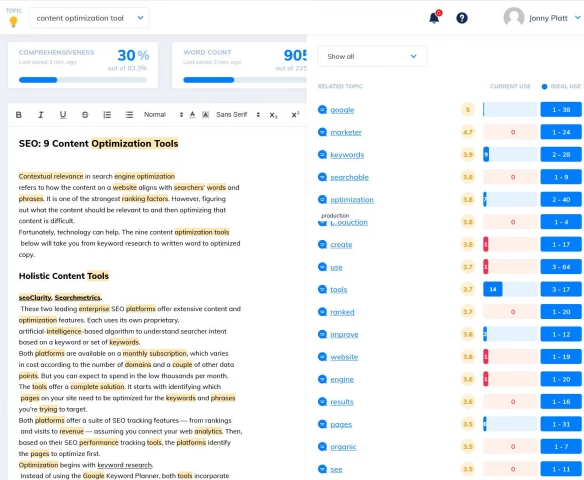 Missing keyword opportunities panel
You can get insight on missing impressions and keywords that you should be using, too. By adding these discoveries into your headlines and body paragraphs, you maximize your organic search traffic potential.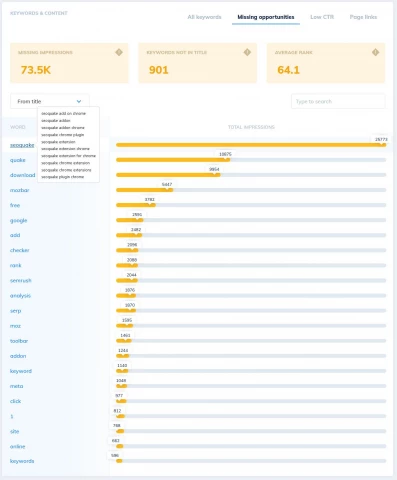 SEO Scout's Keyword Cannibalization tool
This notifies you when multiple pages of your site are targeted towards the same keyword, which can confuse Google because of the internal page competition. You can learn more about identifying and fixing cannibalization issues on SEO Scout's blog.
SEO Scout finds opportunities in your current article to link to other pages within your website to increase traffic to those web pages.
Pros
Includes virtually every SEO tool required for SEO with next-generation machine learning and natural language processing.
Offers seven powerful SEO tools for FREE that you would have to pay for elsewhere:
Looking to sign up for the paid pro packages? You can try those for free, too, with the 7-day free trial. SEO Scout seems to love providing tons of value for free; that's partly they are ranked number one on the SEO reporting tools list.
The packages are specialized to your specific needs and are relatively affordable, offering monthly and annual payment plans. You can save a good amount of money with the yearly plan discounts automatically added. You can see the SEO Scout plan pricing here.
Cons
The seven-day free trial period could be too short of an experiment time for the many in-depth features SEO Scout offers.
SEO testing like title and meta tests are only available with the premium plan
Clearscope.io
Clearscope is another content editing and optimization tool helping businesses of all sizes drive organic traffic. Just type in a target keyword and let Clearscope scour the top-ranking organic content on the internet to find relevant keywords, word count, and headers to help structure your piece.
Clearscope's content optimization editor shows you optimal ranges for keyword usage and grades your readability with references to academic grade levels, making scoring unique yet relatable. For example, your piece could be at the "12th-grade reading level", and Clearscope may recommend "9th grade" to make your article easier to understand.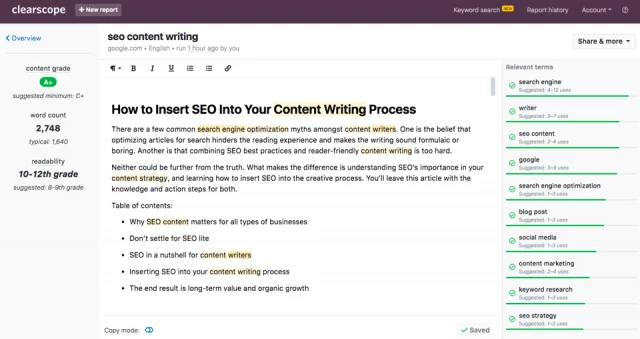 You also get a letter grade on your overall written content with a recommended level to aim for. Welcome back to high school.
Pros
Clearscope plug-in integration with WordPress, one of the most popular content management systems.
Long-standing SEO content editor that aggregates relevant keywords
Grades competitor content with your piece in an academically relatable manner
Collaborative–with the proper permissions, multiple team members can work on it at once
Cons
Clearscope is a robust content editing tool, but not much else.

SEO website audits not included
Data is limited for keyword research
Link building and backlink data is limited
Web page SEO recommendations aren't the best. SEO Scout, SEMrush, or AHREFS give more comprehensive feedback in the web page SEO department

There are only two rather expensive plans with missing SEO services mentioned above and limited payment options (no annual payment option with discounts like SEO Scout).
Clickflow.com
Clickflow is a sturdy SEO experimentation tool known especially for its A/B testing capabilities. You can learn which website pages are actively ranking in the search results page but still yield low click-through rates (CTRs).
With Clickflow, you can write multiple title tags and meta descriptions that are enticing while ensuring keyword relevance. You eliminate the guesswork on which version might perform better and run actual split tests to see the organic traffic results yourself.
Keyword rankings are constantly shifting and so are the algorithms of search engines. Over time, these changes can mean content decay–a drop in the SEO ranking and organic traffic. Clickflow provides you with an analytics report of poor-performing pages that you should refresh to win back traffic quickly.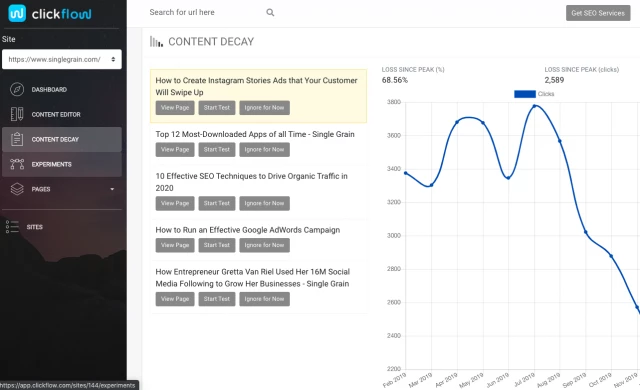 Pros
Offers a seven-day free trial for $1.
A readily available customer support chat option at the bottom right of the site page
Available blog section with practical case studies on how to use Clickflow properly
Content editor tool
The built-in revenue tracker measures revenue growth from SEO marketing efforts.
Cons
Limited plans and pricing
No SEO audit management
No free tools available
Free trial charges money and maybe too short to test all features
Marketmuse
The MarketMuse suite is armed with artificial intelligence and machine learning that analyzes millions of article pages on demand. This SEO reporting tool came close to beating SEO Scout, but it didn't quite cut it because of its expensive pricing for similar services.
The SEO reporting platform comes with five main applications. Three of which (RESEARCH–keyword recommendations, COMPETE–comparing competing articles with own, & OPTIMIZE–scoring content for relevancy and readability) we've covered in previous SEO tools. The last two, QUESTIONS and CONNECT, are key differentiators. Let's talk about them.
In the QUESTIONs application, MarketMuse has a FAQ generator that tells you commonly searched questions on said topic. FAQs are a surefire way to guarantee users find your site. Since, you know, we love asking Google stuff, it's popular search content.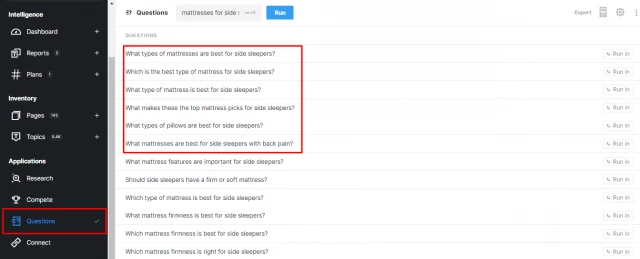 The CONNECT application uses AI to perform a site audit and learn what your content is about. Then, it makes educated guesses on which relevant sources can be internally (another page within your website) or externally (another website) linked within your SEO article. This sends more traffic to other areas of your site, and when you link a reputable external source, your information is more credible.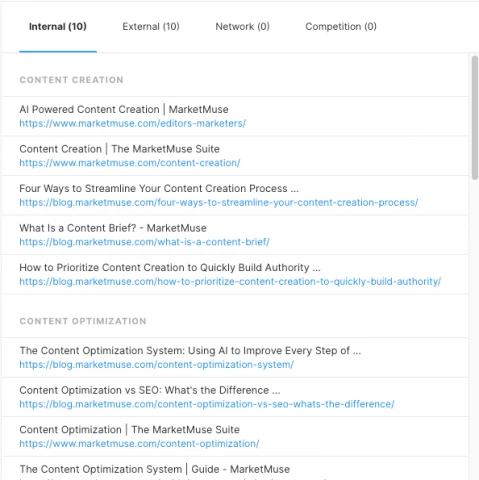 Pros
FAQ & link generator
Intuitive user interface
24/7 live chatbot (Musebot)–redirectable to live support agent
Wide range of plans for your specific needs
7-day free trial
Cons
No built-in keyword research tool, you must outsource to Moz or similar
Though the packages are specialized for different types of SEO professionals and consider their budgets, the plans are still generally on the expensive side
Limited queries–running any sort of application on MarketMuse counts as a query credit. One article will likely take all five (RESEARCH, COMPETE, OPTIMIZE, QUESTIONS, CONNECT) applications. That's five credits. So, the starter pack, for example, would allow you to write five SEO articles a month. Not much.
A seven-day free trial is not enough to test all features
Conclusion
There you have it, our four best SEO reporting tools. Your choice will depend on your specific SEO needs.
Here's a recap:
If you want all the SEO tools like the content editor, SEO auditing, competitor analysis, and more all in one place at an affordable price, SEO Scout is the answer.
If you're simply looking to edit and optimize written content, then Clearscope.io is probably the way to go because it specializes in that sector.

Whichever SEO reporting tool you choose, streamlining the SEO process with automation and data-backed decisions will undoubtedly surge your organic traffic and grow your business.