"Optimize your content with the top keywords and set yourself up for SEO success."
How many times have we all heard that phrase? Countless. Consequently, most businesses vow to rank for these high-ranking keywords, forgetting that they're also the most competitive for ranking and search traffic.
While ranking for high-volume search terms is a good idea, it's not always the best starting point. An often overlooked SEO strategy is finding striking distance keywords to optimize content and organically build enough authority over time to rank better for your goal terms later.
We know what you're thinking. What even are striking distance keywords? It's not the most discussed topic, but it has proven to be very rewarding when done correctly. Only the best online brands pay attention to every nuance in SEO to maximize rankings. Are you one of them?
If so, then in this 5-minute read, we're going to:
Tell you what "striking distance" keywords are
Teach you how to find these keywords within striking distance
Help you figure out what to do with them once you've found them (how to optimize content for them)
Then, you're going to get out there and kick some SEO ass. Ready? Let's go.
What Are Striking Distance Keywords
A striking distance keyword is a targeted term that ranks just off the first page, between positions 11 and 20, where even a tiny tweak for optimization can significantly impact and move the keyword rank into prime position (positions 1-10).
Because the keyword already ranks pretty well and the page is relevant to the topic, it's usually enough for a bit of tweaking to boost that link to the top of the page. Increasing your rankings on the first page can translate to more impressions, visits, and conversions. Overall, you're building more site authority which will help you rank for more terms and build a larger, loyal audience.
How to Find Striking Distance Keywords
Did we relieve your itch? Now that you know the opportunities you're missing with striking distance keywords and search results rankings, you're probably itching again to understand how to find these low-hanging fruit. We got you there too, don't worry.
You might think finding keywords within striking distance is a tedious and complex process. All those keywords ranking in your niche, how do you root out the low-hanging fruit on pages 2 and 3? The answer is easy: with a click of a button. One button.
SEO Scout does all the scavenging for you and identifies the striking distance keywords that can use a little optimizing. Then, it makes a list and shows it to you upon request–that's where the button comes in.
SEO Scout's Striking Distance Keywords Filter
Here's a step-by-step on how to find the keywords at a striking distance with SEO Scout:
Log in to SEO Scout and scroll to the Sites drop-down menu.
Then, click the sub-tab Keyword Rank Tracker to see your keyword rankings longitudinally on a macro level.
From there, you'll see a small blue-outlined box named Preset Filters. Click it.
Choose the preset filter named: Striking Distance Keywords: Page 2 Potential.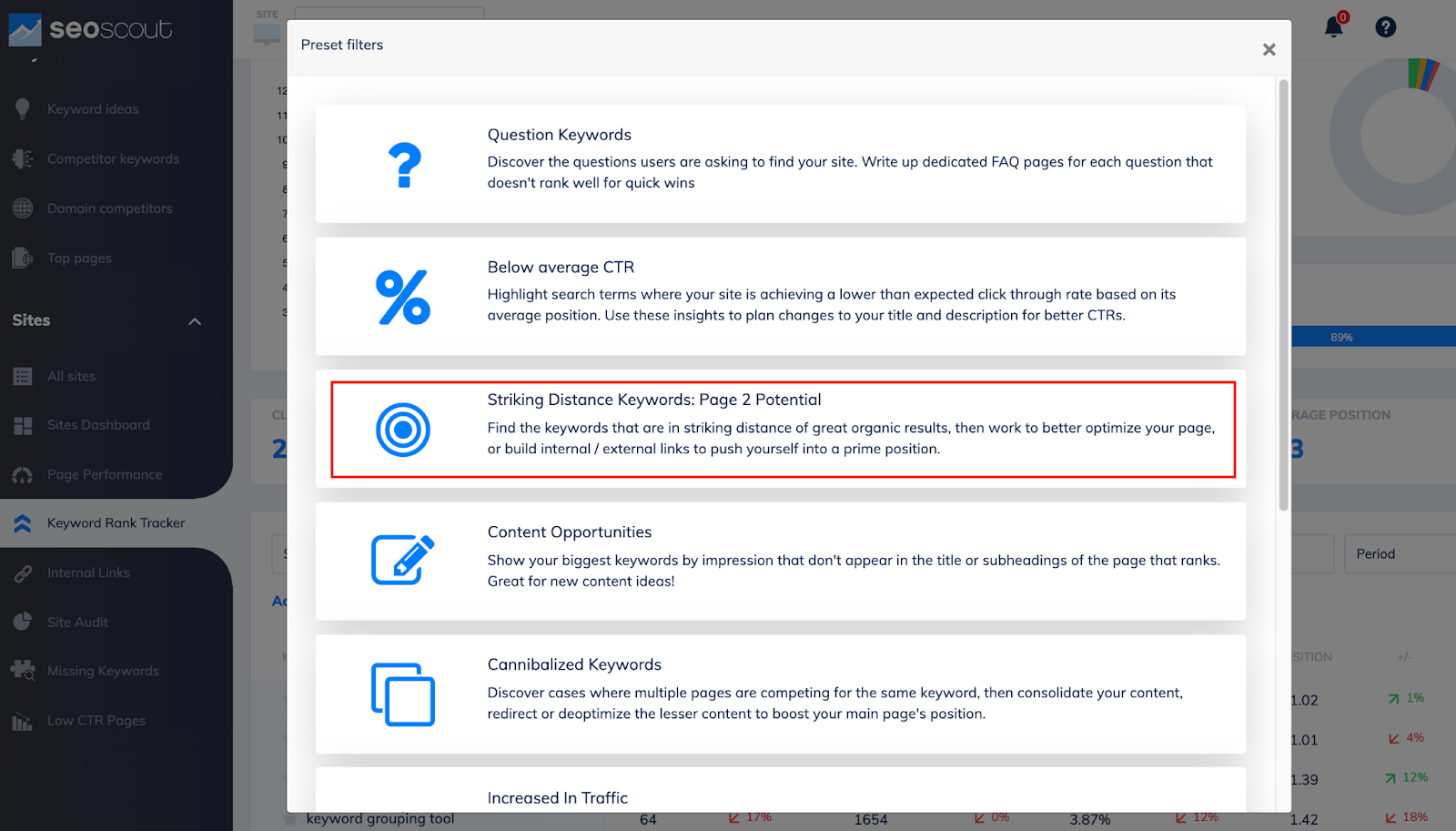 Voila. Take note of the low-hanging fruit keywords you see and make a list for optimization.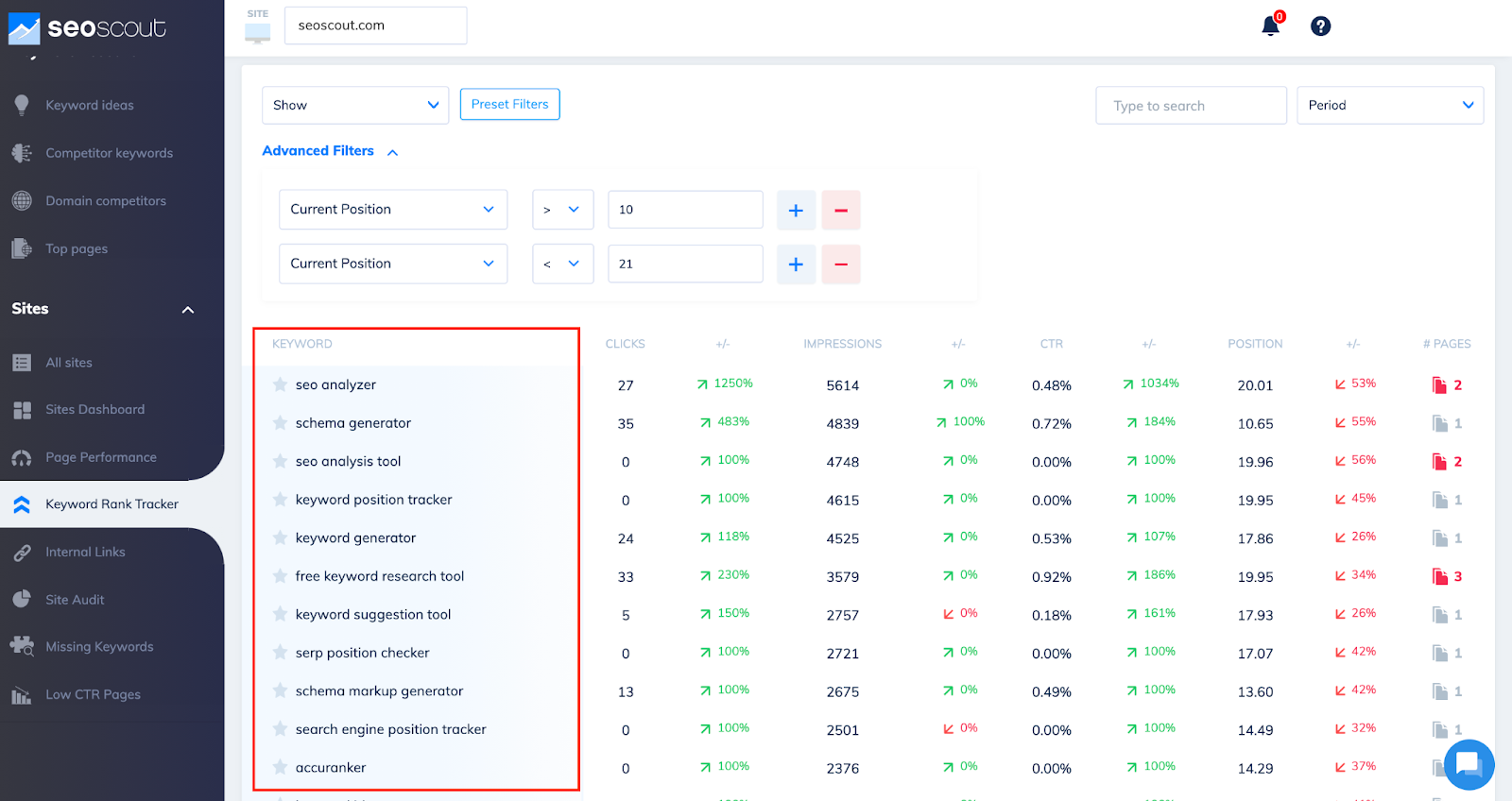 Now that you have your striking distance keywords ready, it's time to put them to use. We cover that in the next section:
How to Optimize Striking Distance Keywords for Higher Rankings
There are a couple of ways you can optimize striking distance keywords for higher search rankings.
It's about making small changes that have a big impact on rankings, as these keywords are already on the second page. You don't want to over-optimize your pages, so watch out for keywords that don't apply to on-page optimization.
Consider some of these other techniques instead. It's recommended to do these optimizations one by one to test results and avoid making significant changes that could hurt rankings.
Find internal linking opportunities. Internally link the low-hanging fruit content from your higher-ranking pages to spread the link juice (authority) and use the striking distance keyword as anchor text to tell Google and readers what the result will lead to.
Using SEO Scout: Page performance > pages in striking distance > click a page on the list > All keywords > Preset filter: Striking Distance Keywords: Page 2 Potential > Internal link opportunities for related pages.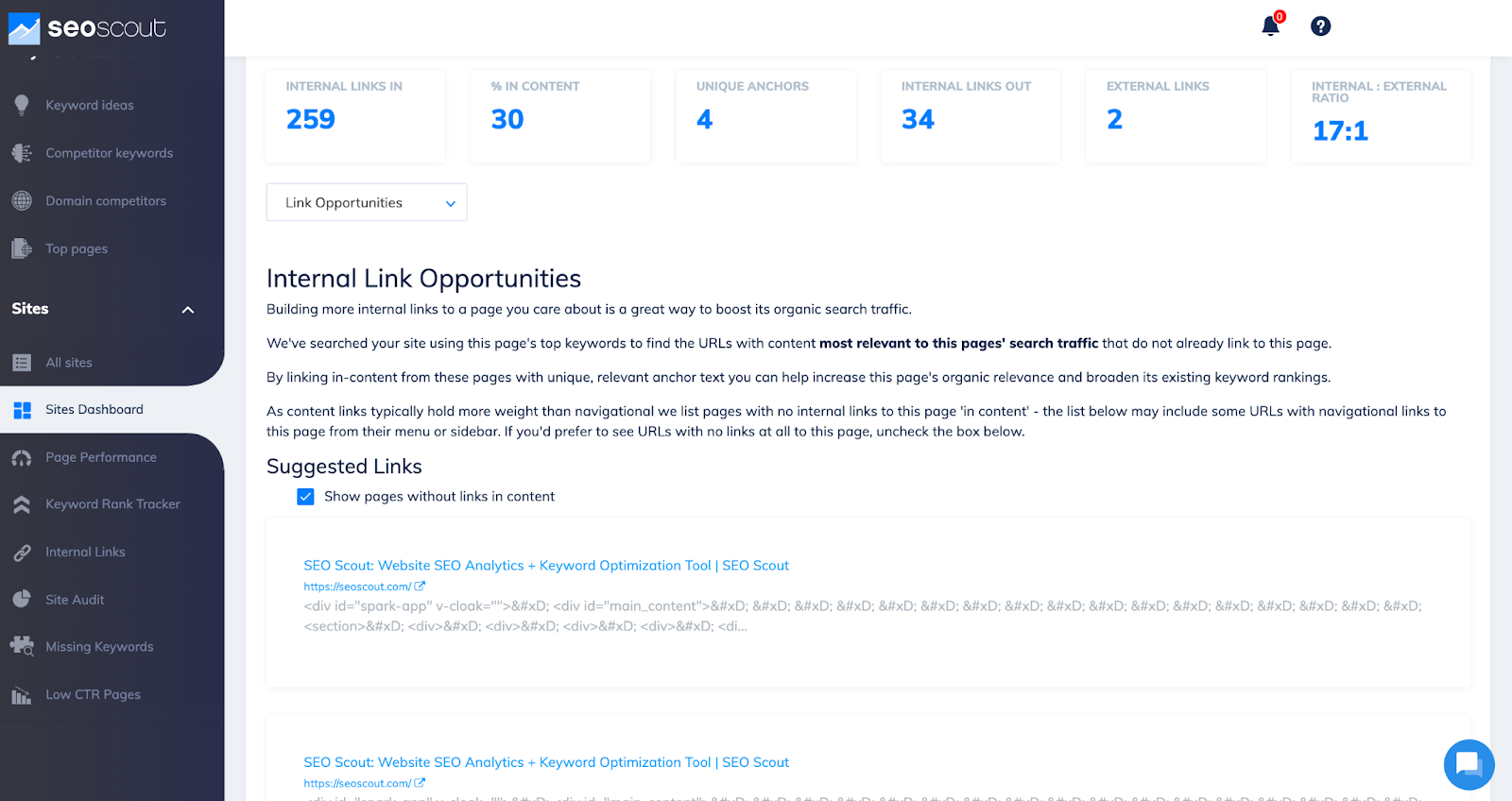 For keywords with high keyword difficulty scores and high search volumes, use topic clusters and internal linking to have the topic cluster page rank for the keyword. For example, the keyword interview questions are tough to rank for. Still, if you're in the career management niche, you can create how-to guides that answer some recurring interview questions that can be grouped into a topic cluster page (e.g., a category page). According to our keyword research tool, the term gets around 200,000 searches per month, so even if you're on the second page, your page is still bound to get some traffic!
Build backlinks: Earn more backlinks to the ranking URL by contacting people or reclaiming links. Backlinks, even one, can make a big difference for this keyword on the cusp.
Optimize title & header tags: Small tweaks to the title tag can improve 2nd-page rankings. You might want to add the striking distance keyword, change the structure, or edit the competing title tags. Take a look at the header tag for the ranking URL, too; just like title tags, a small optimization can make a big difference.
Refresh existing content. Try to incorporate some of these new keywords, some semantically related language, and be more helpful to the reader by answering the questions you see keywords uncover through research-backed data (wherever possible) and actionable advice.
Create new content: if the wrong URL is ranking for the striking distance keyword or the page just isn't strong enough, creating novel content altogether to boost the ranks of valuable search terms is a good idea. You can use SEO Scout's Content Editor to ensure you're hitting an optimal concentration of keywords and get a score on your readability.
Parting Words
Striking distance keywords have been around for a long time but continue to present a logical next step to perform thoughtful optimizations to increase rankings of valuable search terms. Knowing what striking distance keywords are, how to identify them, and how to optimize them will give you a considerable boost in your organic efforts.
Get a full week of SEO Scout for your keyword-hunting needs on us and see if you like it.