So, you've done the keyword research, and you've weaved all the right buzz words into your written content. Look at you, prioritizing SEO as any smart business would. But, how do you know if it's working? How can you really tell if the 13 times you mentioned "best mountain bikes" did anything to match search queries?
You must be able to track the long-term performance of keywords. Luckily, the best SEO reporting tools feature a keyword rank tracker that arms you with critical information that can save your web pages from the depths of page 13 on search results.
This 6-minute read will introduce you to keyword rank tracking–why it's essential, and how to track your keyword positions through an SEO reporting tool like SEO Scout. Let's get started.
What is keyword rank tracking?
Keyword tracking (or position tracking) is monitoring (through a rank tracker tool or Google Search Console) how your web pages rank in Google's search results for your most important keywords. Some rank tracking metrics include clickthrough rates, position distribution, and impressions to help you properly assess SEO performance.
Why keeping up with keyword ranks is important
Imagine you're Best Buy. One of the many products you sell is headphones and, because you put blood, sweat, and tears into your SEO, you happen to rank #1 on search results for the keyword "headphones." Very nice.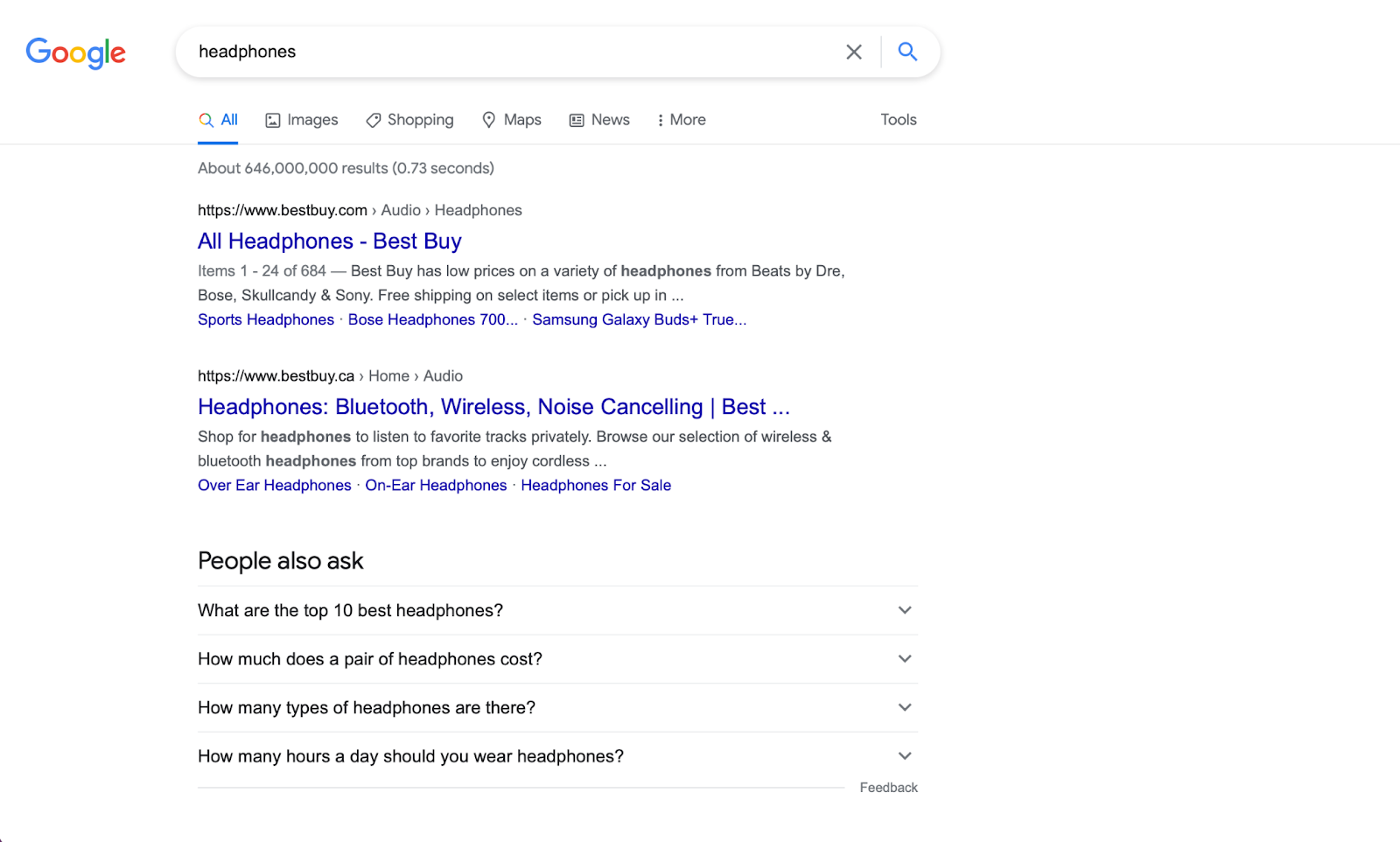 55.2% of consumer clicks go to the top three organic search results. It's safe to assume Best Buy enjoys a significant amount of search traffic and sales from "headphones" alone. So, the company should continue monitoring and optimizing their relevant web pages for this keyword because a drop in rankings at their level could mean losing millions in sales annually.
Tracking your keywords is important for many reasons that go beyond increasing sales. Here's a brief list highlighting key benefits:
Validate your keyword targeting efforts–are they really working? Analyzing data like click-through rates will tell you how successful your keyword implementation was. If an ad or organic search isn't doing too well, you can repurpose funds and resources to a more valuable keyword.
Keyword tracking allows you to observe trends–like seasonal changes. A keyword like "shorts" will perform better in the summer than winter, for example. Or, there could be new keywords ranking high because of recent pop culture news in your industry. Keeping up with the market and adapting keywords will save you from losing valuable traffic to competitors.
By tracking competitor keyword ranks, you can identify new keyword opportunities to rank higher and thereby mine new content ideas to fight for page 1.
Identify and start ranking 'striking distance' keywords (i.e., keywords that will bring in traffic even if you're not on the first page).
Understand the conversion potential of various keywords.
Why you need a rank tracker tool
You might be wondering if you could reap the benefits mentioned above for free. Technically, it's possible with Google Analytics and Search Console, but there are some drawbacks:
With Google Analytics and Google Search Console, you can't track the performance of specific groups of keywords over time.
Google Search Console gives you insight for ranking data only up to 1,000 keywords–and you have no control over the tracked keywords.
Google will also never alert you if there's a sudden drop in your keyword ranking.
Purchasing a rank tracker like SEO Scout addresses such limitations. You control as many keywords as you want to track and organize them into groups. Additionally, keyword rank tracking tools offer intuitive and user-friendly reports that make it easy to understand performance and uncover valuable insights.
Finding Keywords with SEO Scout
If you're going to track keyword performance, you need to know how to choose them in the first place. The right keywords will open light on the most valuable insights to track users' online behavior.
How to Choose Keywords to Track
To start filtering the keywords, you need to understand the keyword categories you should track.
Branded keywords–keywords that include your company's name.
Top-performing non-branded keywords–keywords that don't have your brand's name in them but drive the most traffic to your website.
Keywords for individual products or services–groups of keywords specific to your product or service that are commonly searched for.
Keywords for each new initiative–keywords related to the latest launches, projects, and other initiatives that could use more organic traffic.
Competitor top keywords–keyword opportunities that you're missing out on but generate traffic for your competitors.
Where to Find Your Keywords:
With
SEO Scout's keyword rank tracker
, you can find your top-performing branded and non-branded keywords. From there, filter the keywords that have received the most clicks for some time and separate them into branded and non-branded groups.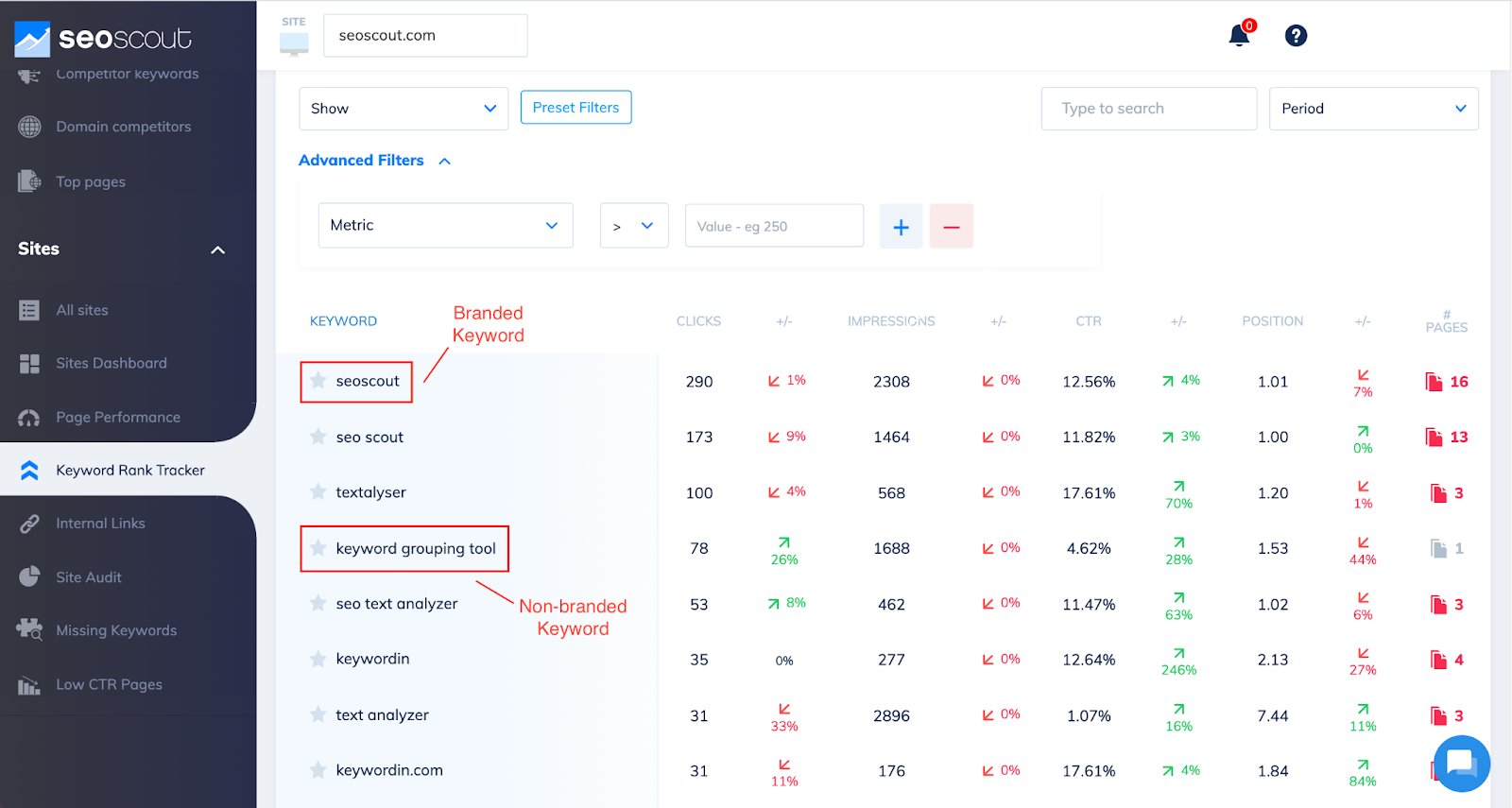 On the top left of the screenshot, you can see an option to input a link to your webpage. If you input a specific page domain, you can analyze the top-ranking keywords for that page specifically. In other words, you can examine keyword performance for particular products/services or new initiatives that your page is dedicated to.
Sometimes, there may be keywords that you missed. You're only human, after all. But, with an AI-powered competitor research tool, you can spy on your competitor's high-ranking keywords that you perhaps missed. From there, you can build a list and send it over to your writers for new and relevant content ideas.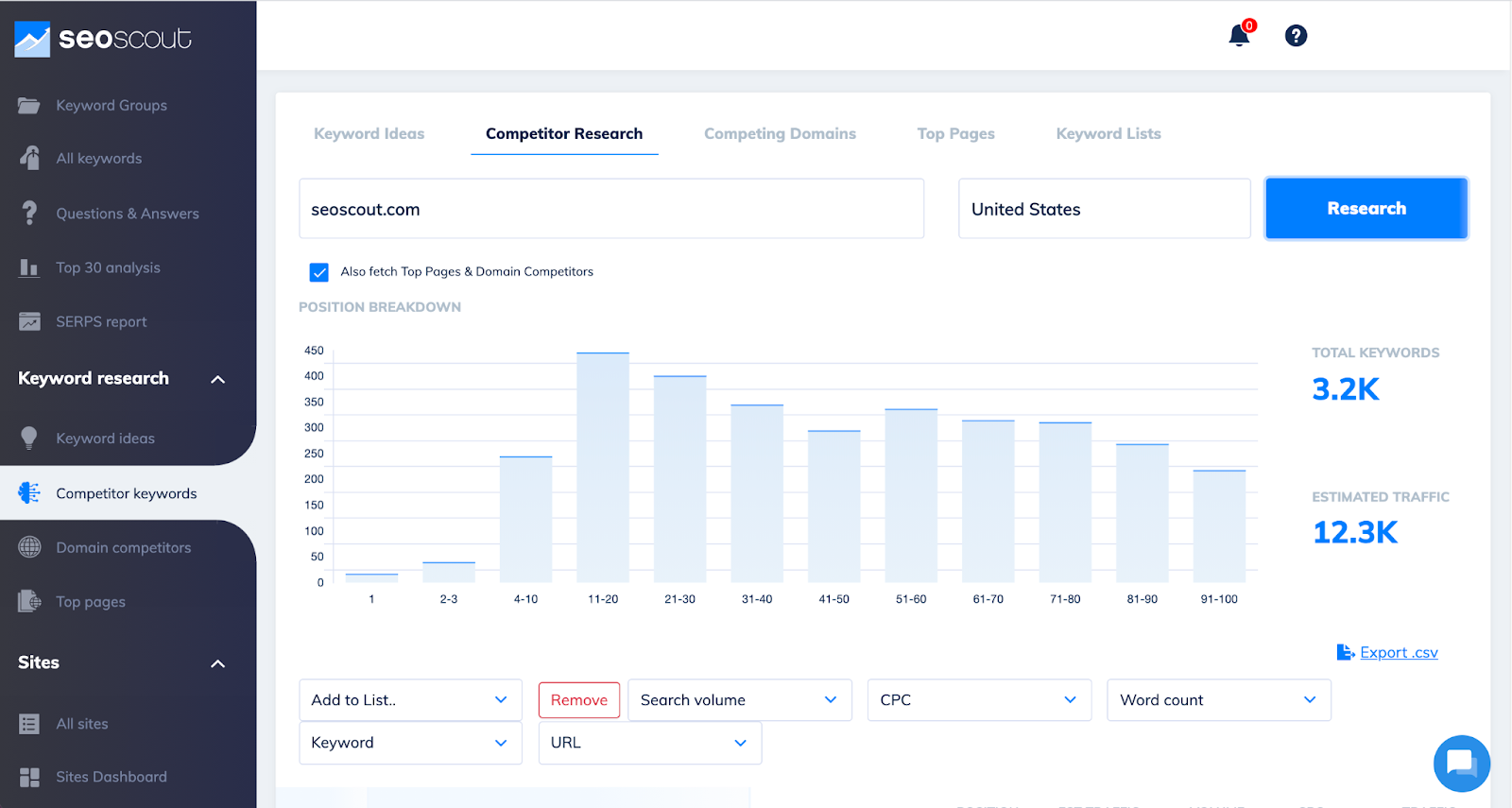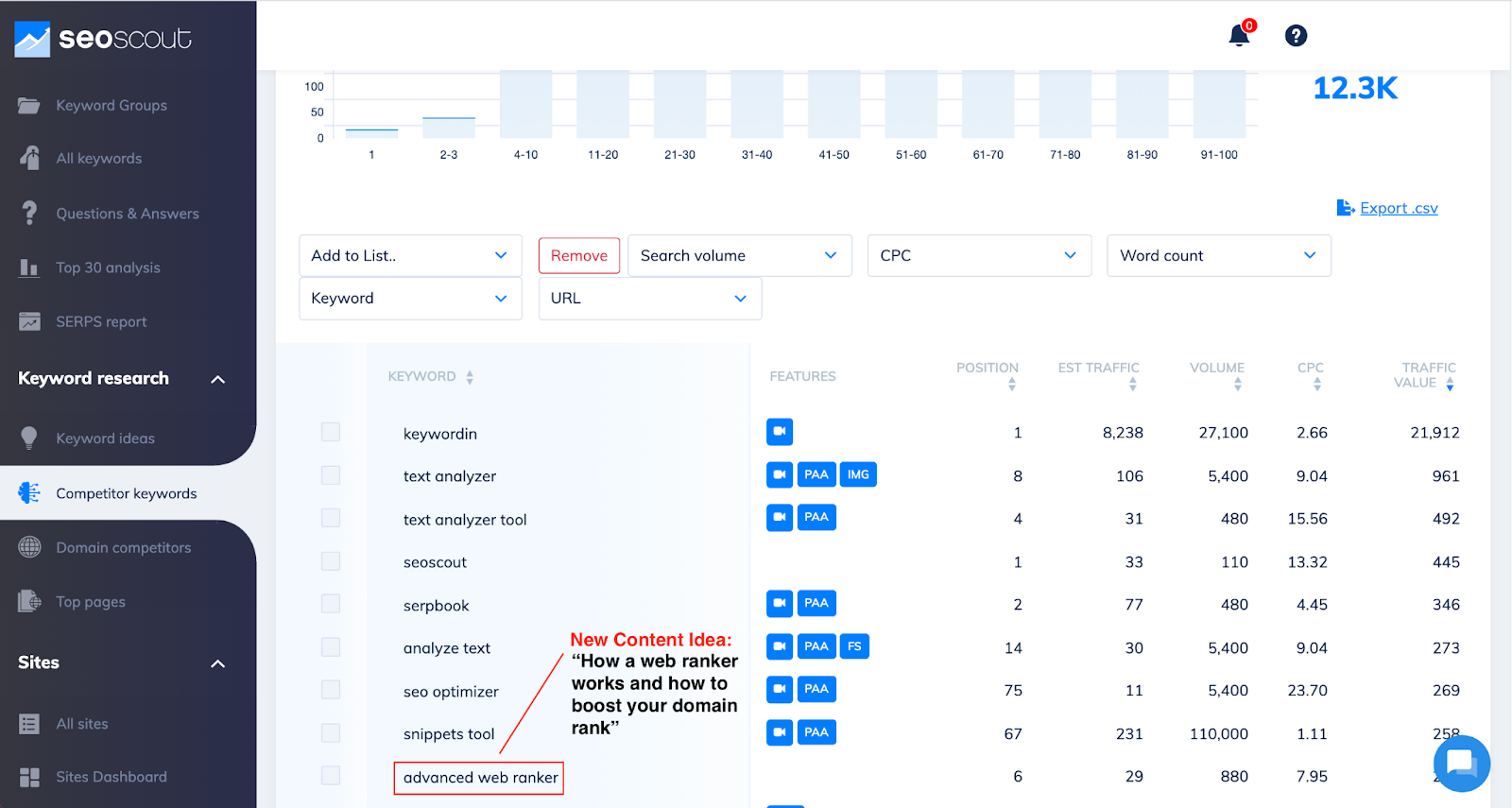 Understanding the ranking dashboard (SEO Scout)
At first glance, the keyword ranking dashboard may look a bit intimidating. What do all the colorful graphs and numbers mean? What do you look out for? This section will go over that briefly, so you don't feel like you're trying to land an airplane.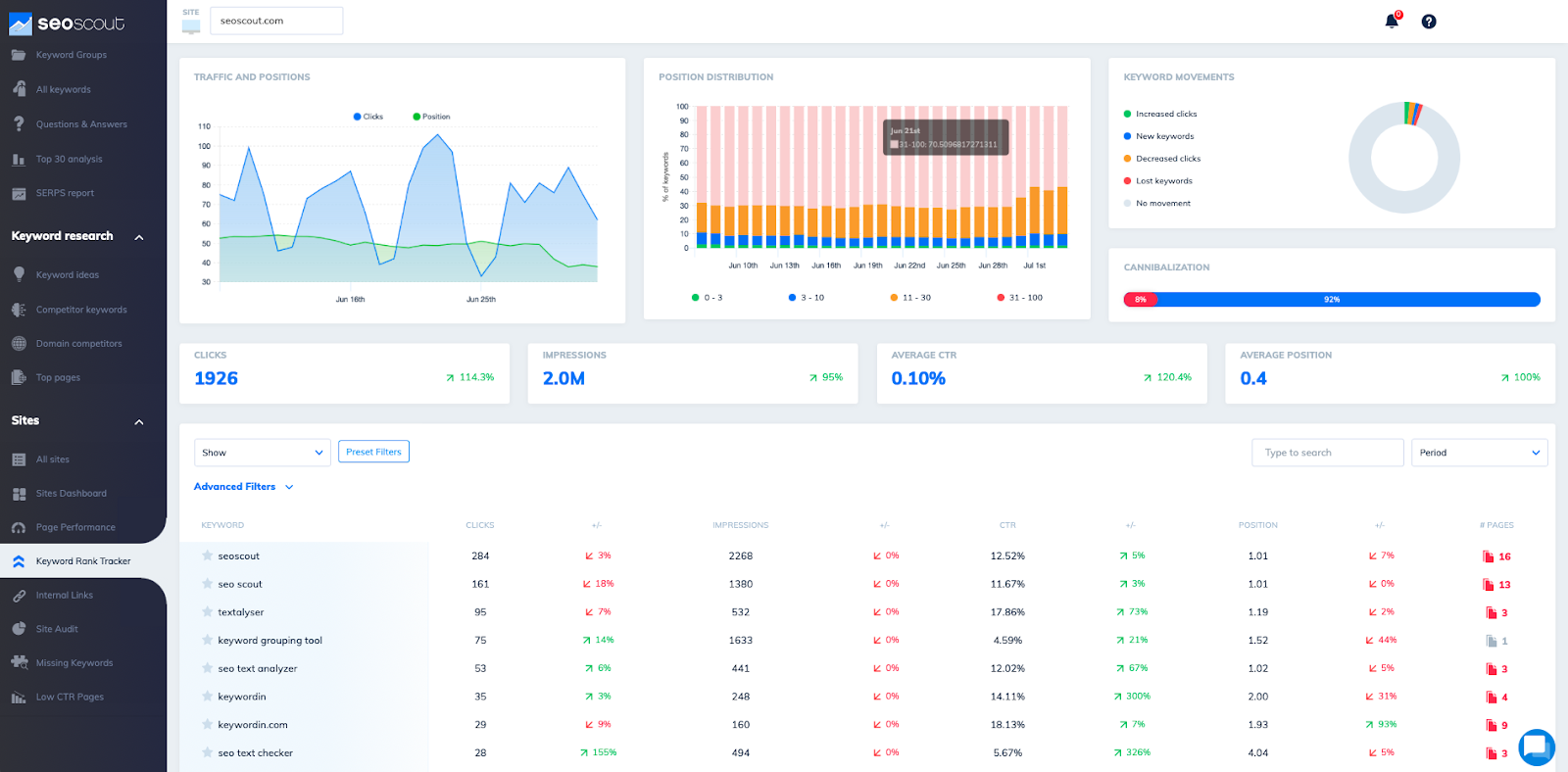 Traffic and positions
You can examine the total clicks you received from all your keywords in the past month and track your overtime keyword positions in this sub-panel.
Position distribution
Position Tracking–also known as rank tracking, or SERP tracking, allows you to follow positions and progress for all your keywords in Google–by connecting your Google Search Console account to the rank tracker tool. SEO Scout offers quick and intuitive integration, for example.
From there, you can monitor your head terms and modifiers across days, weeks, or months can help ensure your content headers remain enticing.
Keyword movements
Keyword movements are changes in keyword popularity. The top-right panel gives you an overview of the portion of your keywords that have increased clicks, decreased clicks, new words that have been ranking recently, and lost keywords.
Cannibalization
Keyword cannibalization happens when you have too many identical or similar keywords throughout different web pages. That makes it difficult for a search engine like Google to discern which content to rank higher. Sometimes, an unintended page may rank higher than a conversion page that matters.
The cannibalization tool gives you an overview of the portion of keywords that are cannibalized or not. For example, in the screenshot, 92% of keywords (the blue) are not cannibalized–which is good; most of the keywords don't overlap, so there won't be any internal ranking competition.
Impressions & Clicks
Impressions are the number of people who have simply seen your keyword and link on the search results page. Clicks–also known as click-through rates (CTR), tell you how many of those impressions actually clicked on your stuff.
How to leverage your insights with SEO Scout's Rank Tracker
Increased Impressions & Clicks: Use Trending Keywords More
Check your keyword ranking dashboard; which keywords are rising in traffic? In other words, which keywords have seen a surge in clicks? You want to use them more in your headings, descriptions, paid ads, and body text: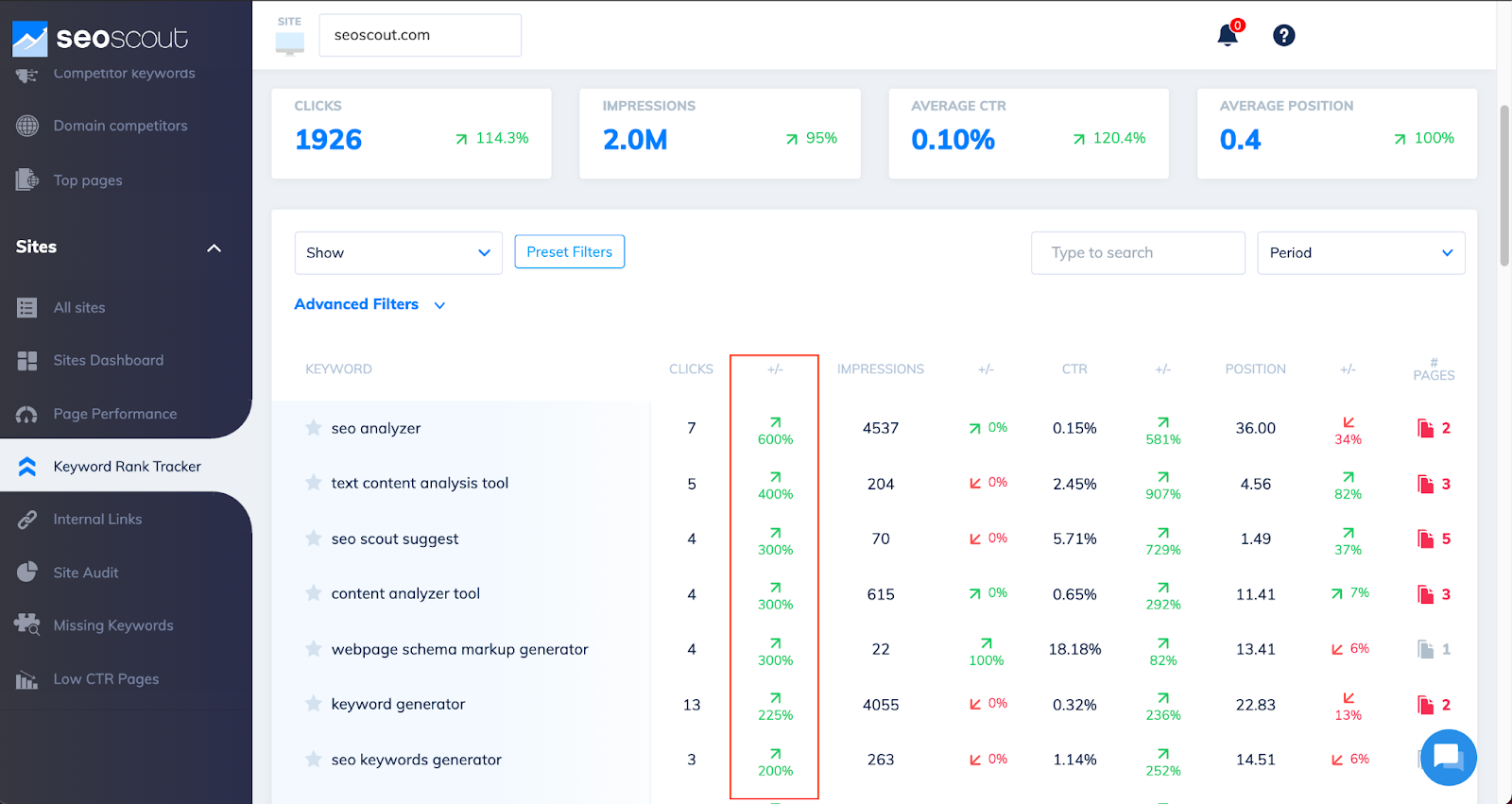 Decreased Impressions & Clicks: Adapt to New Trends
Have some keywords that decreased in traffic? Don't just let them sit there; assess why. Are they ranking lower because of a seasonal change? Trends in pop culture? Unsurprisingly, "cargo shorts" will decrease in impressions and CTR in the winter, so you don't want to invest in paid Google ads and SEO content revolving around "cargo shorts." Maybe snow pants, though.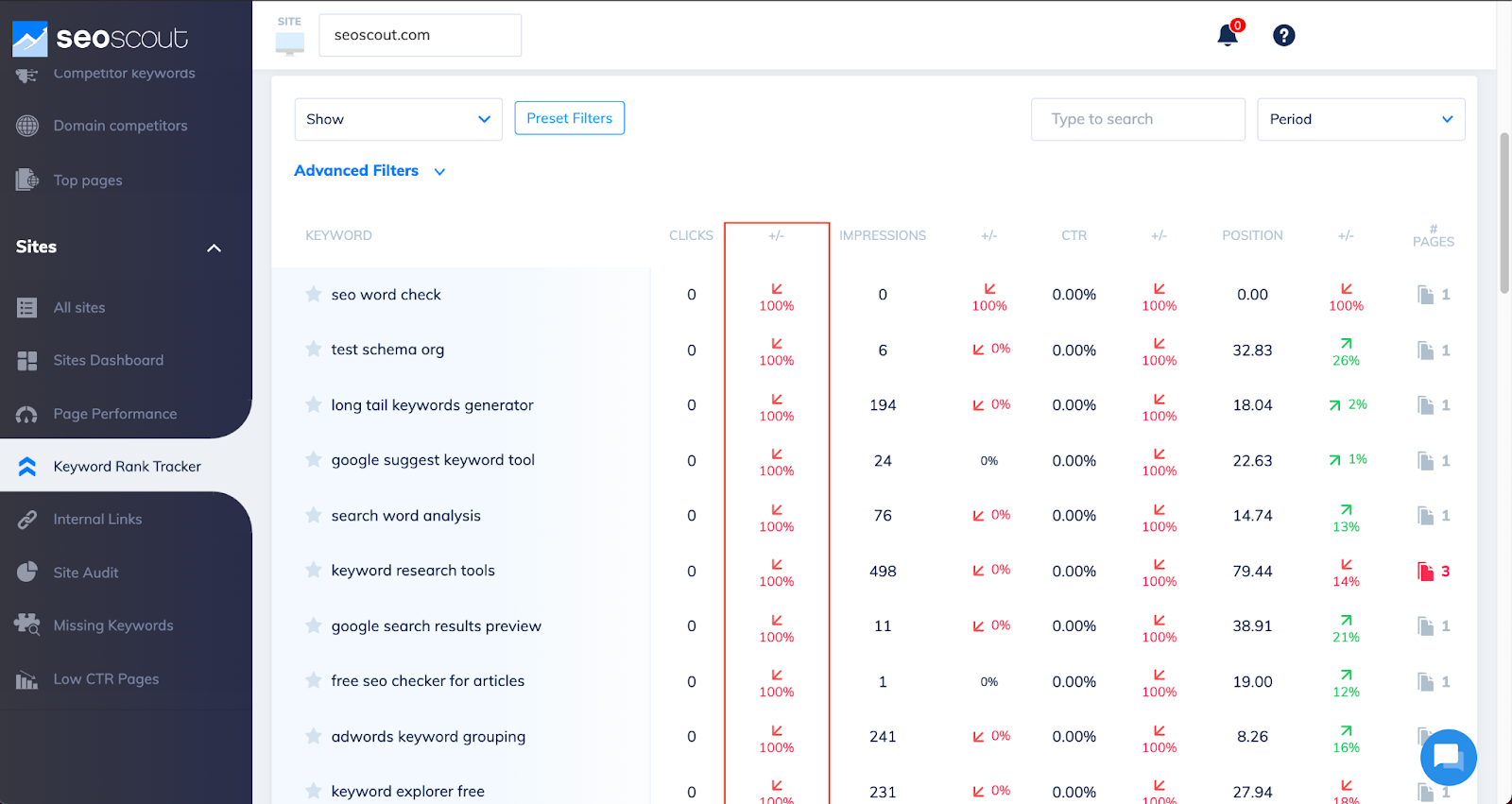 Think: what can you do to make your content strategy more topically relevant to now?
Additionally, fewer clicks (below-average CTR) may mean that your headings aren't that enticing, even though they contain relevant keywords. So, ask yourself: can you make your phrasing more actionable? For example, adjectives here and there, action words, and urgency terms (like "now") usually prompt more clicks.
Keywords That Aren't in Headings: Find New Content Opportunities
SEO Scout's keyword rank tracker has many filters you can choose from for certain objectives. For example, the Content Opportunities filter shows you keywords that aren't in any of your website's headers or meta titles–which implies that you probably haven't written about that particular keyword. So, it's time to.
The keywords you see in the screenshot below were tracked and shown to have increased in impressions and CTR–so you can assume they're pretty popular right now, so, you can use them to create new content on your website:
Striking Distance Keywords: Page 1 Potential
Striking distance keywords are a type of targeted keyword that rank
just
off the first search results page between positions 11 and 20 on page 2 or further down on pages 3 or 4. Your content is
almost
there, and with a slight push–like backlinking, internal linking, and more keyword implementation, it may be enough to jump that baby up to page 1.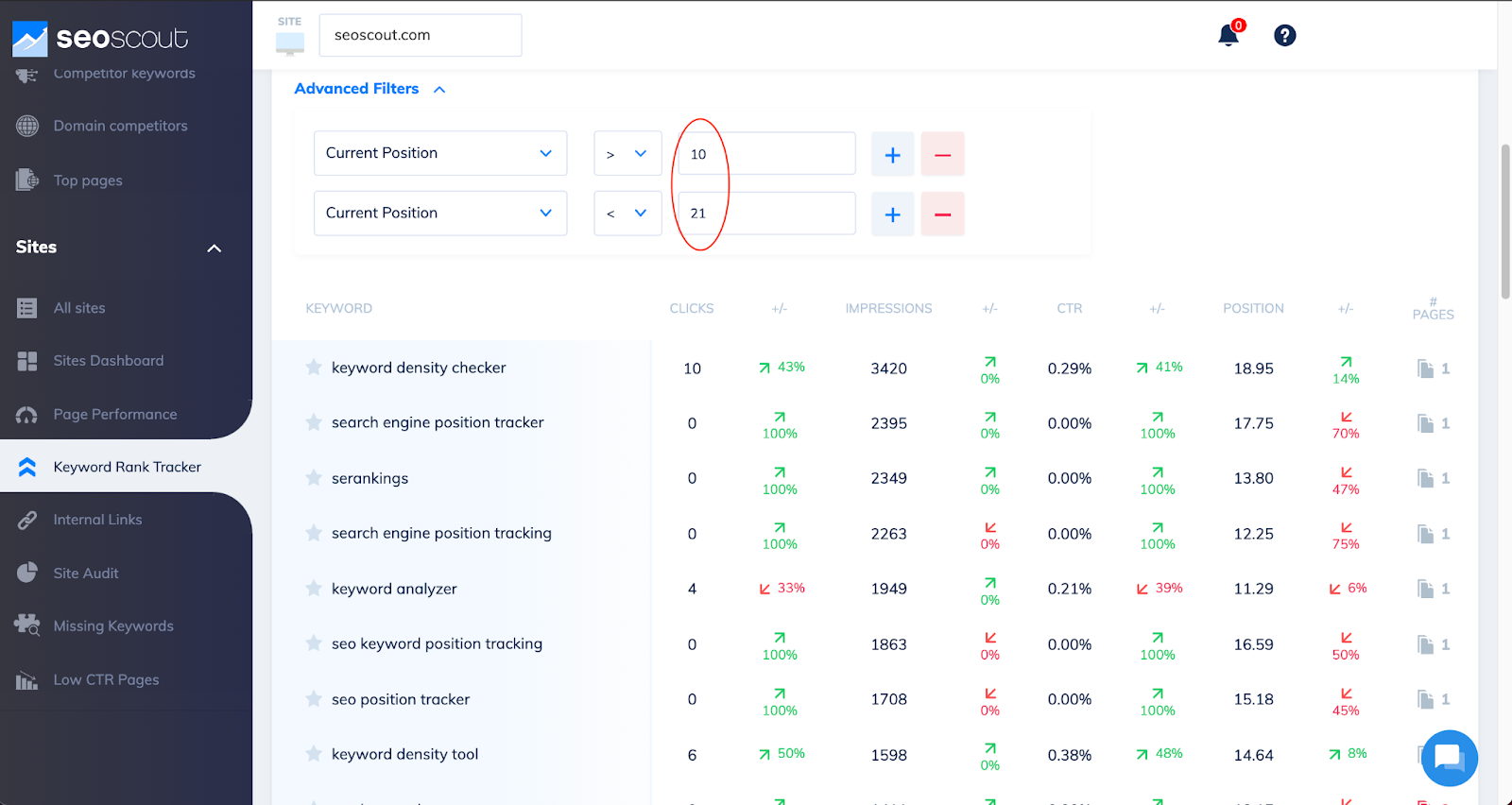 Parting Words
There you have it. Without a doubt, keyword rank tracking is crucial to your SEO strategy. You won't be able to track success without it. Don't just sit on your data, either. With a rank tracker tool like on SEO Scout, you can make more topically relevant content, adapt to changes in rankings, and thereby always stay on top of competitors.
Start a free trial today to try out SEO Scout's Unlimited Keyword Ranking Tool.