How to Refresh Your Content & Beat Content Decay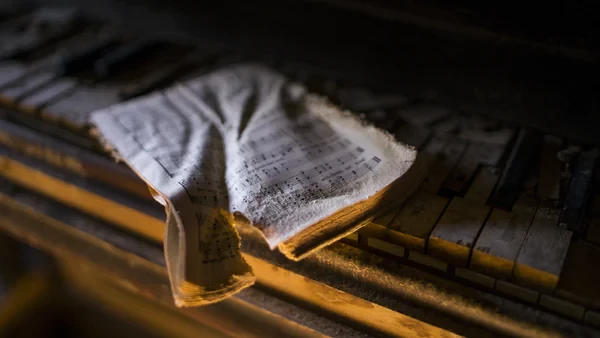 The older your content gets and the less attention you pay it, the more likely it'll start to lose traffic and fall in search rankings. Before you know it, you have piles of old articles collecting dust on your website, providing no value to you or your audience.
What do you do now? Do you forget about that content and move on, or do salvage some articles and revitalize them with updated information?
Whether you're a small business just getting started on your blog or a large business with pages of old content, there's one strategy you need to work into your content marketing roadmap in 2021. That strategy is content refreshing.
I'll show you step-by-step how to refresh your content in this guide.
Step 1: See what's worth refreshing
Not all content is created equal. What I mean is those old company news blogs from 2013 aren't worth refreshing. In fact, I strongly encourage you to chat with your team about pruning them from your website, but that's a topic for another discussion.
The content you should look to refresh needs to have potential. From a search engine perspective, ask yourself:
What is the traffic volume potential of this article? If you have an SEO tool, you can see the estimated traffic of the top competitive articles.
Is it targeting a competitive keyword? For example, if you're in the marketing automation space, you should absolutely refresh your "What Is Marketing Automation & How Does It Work?" article regularly.
Is it decaying? Basically, did this article drive traffic and/or leads to your site but has been struggling over recent months? See below:

Aside from SEO, other content you should look to refresh includes:
Sale enablement content. Basically, will your sales team be using it as a reference during sales calls?
Product content. This is the bread-and-butter of your business. As your product evolves, so should your content around it.
Customer support content. Do your customers visit this content when they have a question about your product or service? A reported 8 in 10 customers try to resolve their issues using self-service support before reaching out to a rep. This content needs to be up-to-date.
After determining and listing out these articles, it's time to begin the refresh process.
Step 2: Begin refreshing the content
You know which content you need to refresh, but how do you go about doing so? This step carries the load of the work in this process. Below are a few of my best tips.
1. Update outdated articles
Search engines like Google love fresh content. If one of your evergreen articles has sat since 2017, you need to go back in and update it with relevant content.
Look at recent research reports and find new statistics to reference.
Update the year in those old articles to the current one.
Replace old screenshots with new ones, especially if your screenshots are of outdated versions of a product. For example, Twitter in 2015 versus 2020.
Update the publish date to the current year after adding new content.
2. Add in timely information
What's hot right now? Does your article have space for it in an update? For example, if you wrote 10 articles about remote work in 2019, then March of 2020 would have been a phenomenal time to refresh them. See the Google Trends graph below: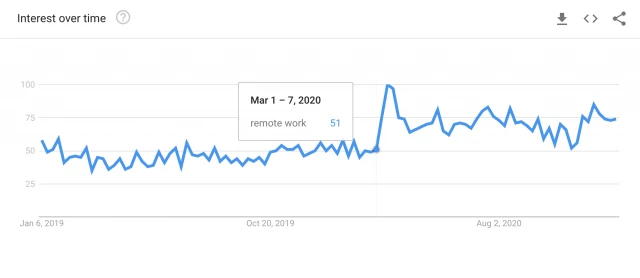 This recommendation is a bit more scrappy and requires you to follow the trends, but it's a great way to update sections of your content. I recommend setting Google news alerts and monitoring Google Trends that are relevant in your industry.
3. Add more content and optimize
While there's no "magic word count" your article can hit to increase its rankings, you may need to add more content to ensure you're satisfying what readers and search engines are looking for.
A simple way to see if your content is too thin is to run the first page of Google results through a free online word counter. Track the average word count of each article, and add more content. If you have an SEO tool, it may already give you word count metrics.
Look at the headings and topics those brands are covering, as well. You could be missing out on important terms or covering terms that are irrelevant to the blog. A basic but intuitive way to make sure you're hitting the right terms is to click the drop-downs on Google's 'People also ask' section. See the example below: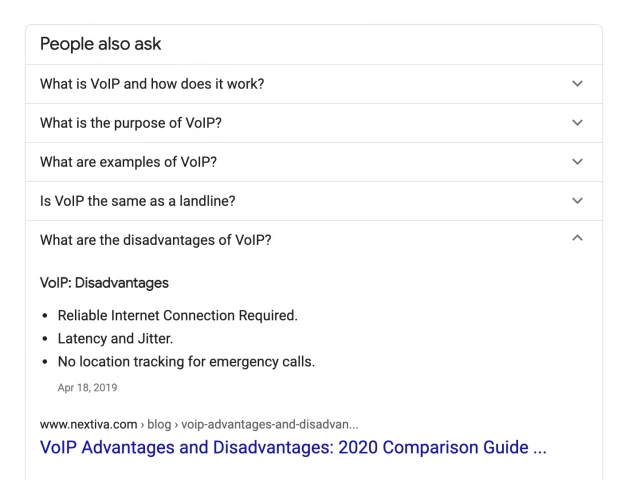 If you're refreshing a full guide, the 'People also ask' section lists out great additions to your content that you may not be hitting already. Think of these lists as FAQs.
Step 3: Measure the results
How do you know if your content refreshes worked without measuring them? To see what worked and what didn't, you need to look at traffic metrics, search metrics, lead metrics, and more.
Below is one example of how we measured the performance of our Voice over IP content refresh. We measured performance two months before and two months after the refresh, then compared the date ranges. This resulted in +155% in sessions.

Some aspects of the refresh included adding in video content from a recent series we launched. This helps us rank in Google video search features. We also updated the content with added VoIP features and spoke more in-depth about VoIP phones.
Another example of how we measured content refreshing is through search metrics. For example, our Unified Communications refresh not only picked up new keywords, but improved its rankings for a handful of the most competitive keywords. See below:

Similar to the Voice over IP refresh, we added video content, updated images, added more content around the pros and cons of using a UCaaS platform, and more.
Without measuring your results, you can't make a strong case for setting a content refresh cadence.
Step 4: Establish a content refresh cadence
Now that you have the results, it's time to establish a cadence for refreshing content. This is a key step in the process because it allows you to scale content refreshing more efficiently in the future.
One helpful tip is to use a task management tool to schedule out and organize the content you're looking to refresh. These tools allow you to set due dates and alerts when an upcoming set of articles should probably be refreshed.
So, what's the cadence? This really depends on your business and the volatility of search terms in your industry. But I recommend at least examining your top articles once a quarter. Again, you can set a task management tool to remind you automatically.
Keep in mind, you should also update your content if a relevant viral event is happening in your industry. Earlier I used the example of the rise of remote work in March of 2020. In this case, don't wait until the quarter is up to update that content. Be willing to be flexible and update accordingly.
Final thoughts
Content is the backbone of a business' online presence today, but if you overlook your content, it could run stale. This applies to blogs, landing pages, pricing pages, even your homepage. You need to actively work at improving your site with fresh content.
The four steps I provided above should be enough to get you and your team on track for deciding which content to refresh, how to refresh it, what to look for when measuring results, and establishing a refresh cadence.
Article by Devin Pickell from Nextiva

`