Did you know that American digital media consumption surged 15% (an extra hour) to seven hours and fifty minutes in 2020? It's really no surprise considering we're all stuck at home glued to our screens for entertainment.
The question is, what are you, as a business, doing to feed this growing demand? After all, more media consumption means more opportunities to create relevant content to be with the user at every step of the funnel–awareness, consideration, and conversion.
Your competitors are pumping out content consistently to rank high on the search engine results page. Here you are, baffled at how they manage to do it. For Pete's sake, where are all the ideas coming from? Are they brainstorming gods? Perhaps, but probably not.
They know how to read data. And with an SEO reporting tool like SEO Scout, you have the power to boost your search traffic with new content, too.
In this guide, you're going to learn:
Why consistent and relevant content is important
How to find new SEO content opportunities (with SEO Scout)
Having a sustainable content creation framework
Best practices for your SEO content marketing
Why Regularly Posting Relevant Content is so Important
Quality SEO content increases your brand site's visibility, builds trust with your audience, and increases leads and conversions cost-effectively. This section will cover the major benefits of consistently posting written SEO content:
Grow Brand Awareness with SEO
Brands that published 16 times a month saw 3.5 times more traffic than brands that published content just once a week. The more content you put out there, the more answers you offer for curious visitors. With a bunch of SEO content that you can eventually categorize into clusters, your content and brand can rank for more queries–thereby increasing brand awareness.
You can build a loyal audience with more brand awareness. You'll be raved about when referencing information in casual talk or backlinks in external content.
Builds Trust and Reputation as an Industry Expert
Imagine you're on Google for an answer or to learn something: almost every query you make, you see that one site with the right answer every time. They always offer quality, easy-to-read content with actionable and data-backed information. You can always count on them.
For example, Search Engine Journal is a credible industry expert on all things SEO. Tech Radar is the go-to for tech-related product reviews like laptops or other gadgets. These sites are always backlinked from other sites, and they pump out high-quality, search-engine-optimized content every day. So, they rank in the top 3 in search results almost every time.
When you consistently post quality and optimized content, your content ranks higher for an array of topics, and consumers begin to rely on you for information. They know they can trust you from previous experience; you're seen as an industry expert in the vast sea of competitors.
Generate Leads & Conversions Cost-effectively
Speaking of trust, your audience is more likely to make a purchase or sign your lead form if they've viewed your content before. In one experiment, four different brands were lined up to purchase from, and 83.6% of consumers chose the brand that provided educational content.
Additionally, weaving call-to-actions (CTA) directly into your content is a great way to generate new leads for your sales. The happier readers are with your valuable content, the more inclined they'll be to check out your product or service.
How to Find New SEO Content Ideas
Okay, so now you know the benefits of consistently pumping out new content ideas. There's still one issue: you lack content ideas. Seriously, what do you write about?
In this section, we present five ways you can find new content opportunities with ease.
The "Content Opportunities" Filter on SEO Scout
SEO Scout's Keyword Rank Tracker can help you find new content opportunities by filtering missing keywords from meta titles/descriptions and content headings/subheadings. The idea here is that keywords not in your title–which usually summarizes the blog post content–mean that they haven't been written about yet–so you should build topics around those words!
Keyword rank tracker > preset filter: content opportunities > build topics around keywords.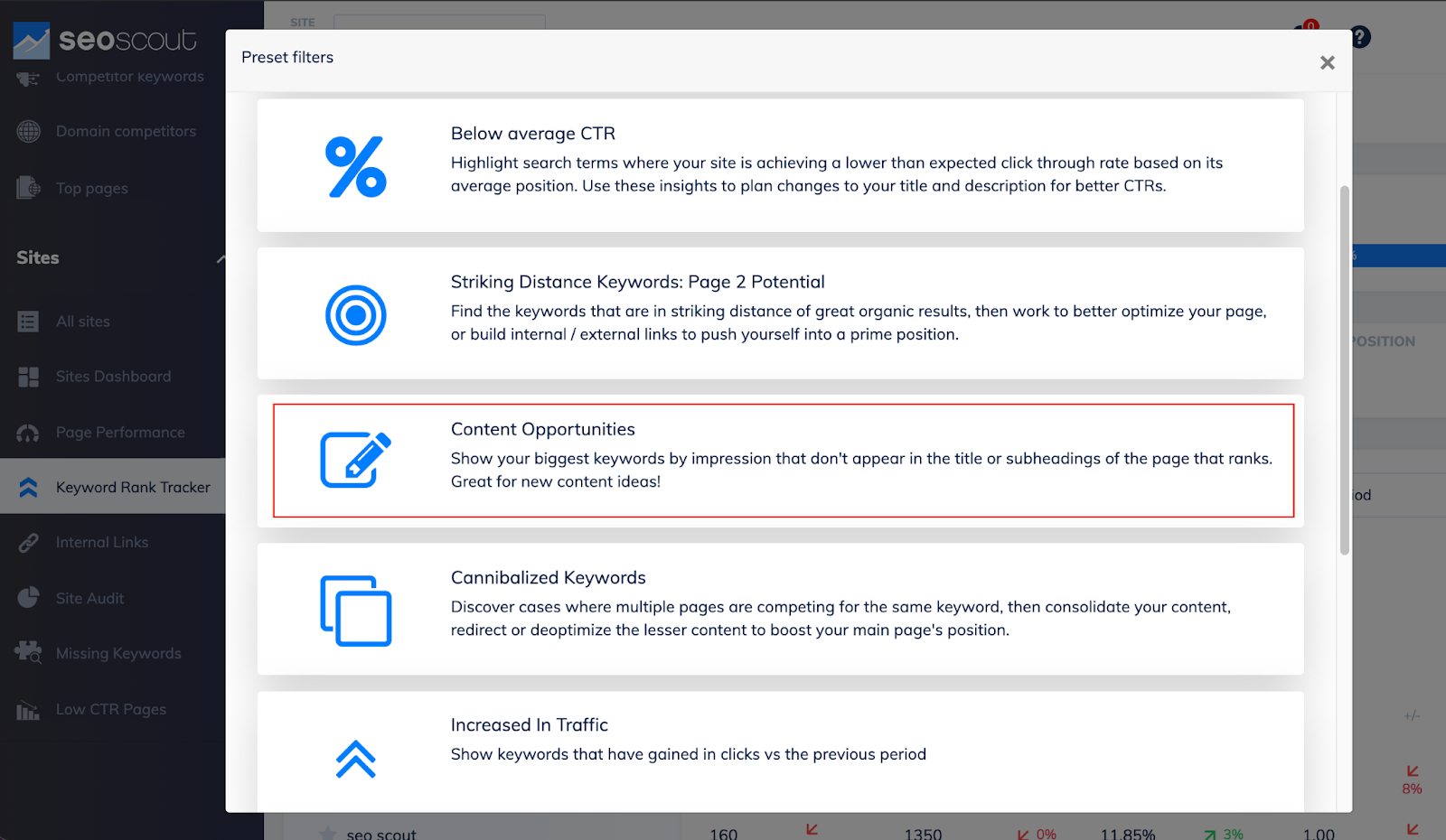 The words you see in the screenshot can serve as inspiration for more content. For example, "email content analyzer" may give you the idea to write about how the system works, why email marketing is important, and which metrics to look out for to optimize email content for more leads and purchases.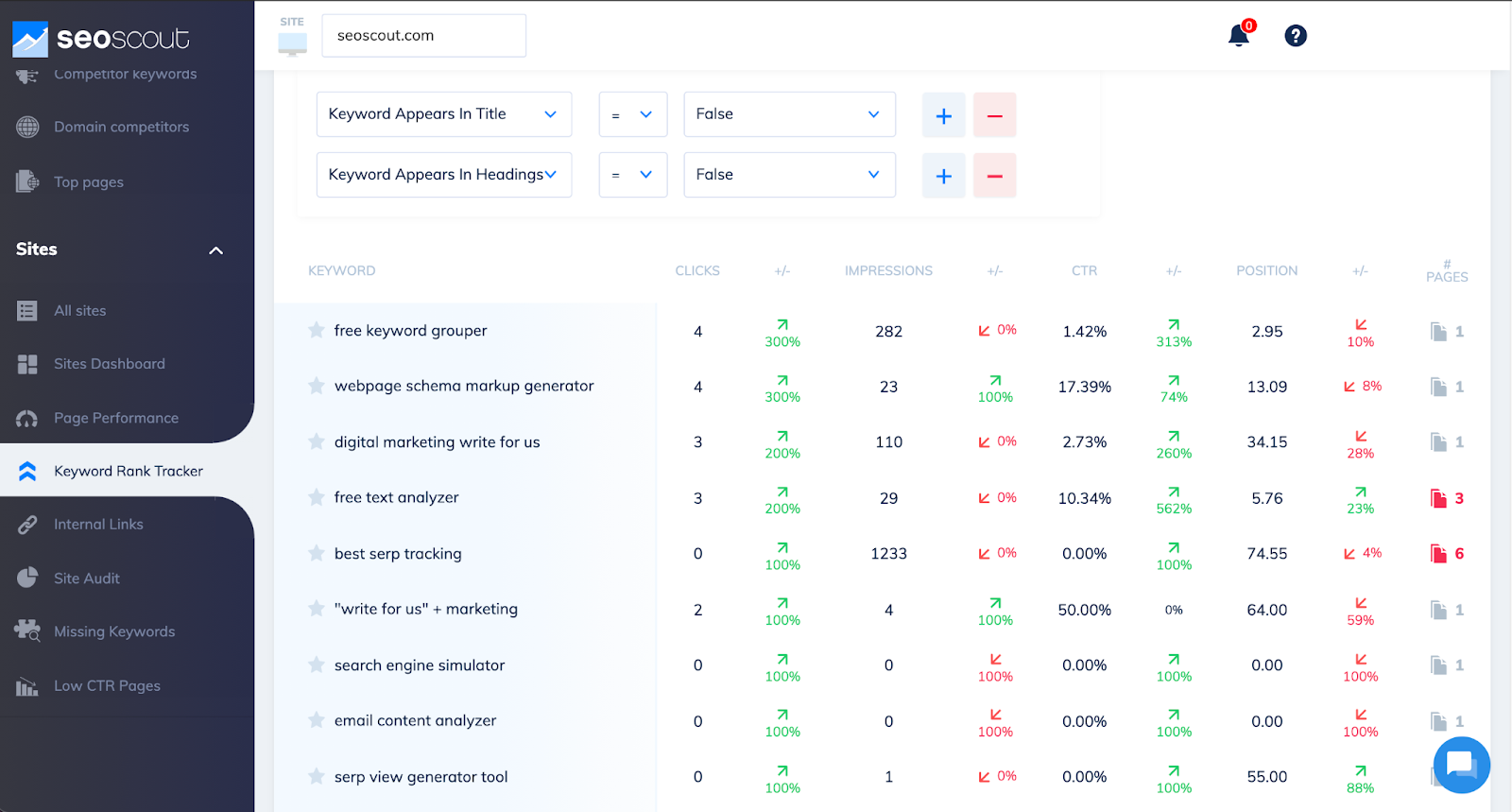 By categorizing all the displayed keywords into topic ideas, you can build out a long-term content plan and schedule posts every day or week–because remember, consistency is key.
Finding Long-Tail Keyword Opportunities
Some of the best-performing content are the ones that answer a searcher's queries directly. Many specific queries are classified as long-tail keywords. Even if they're not worth an entirely new content idea, scouting long-tail question keywords can give FAQ ideas within your content that bolster SEO performance.
The Keyword Groups and Questions and Answers tabs report on long-tail keywords and questions people are searching for.
Keyword Groups Tab
For example, the keyword "search KPIs" prompts SEO Scout to generate sub-groups seen below like "performance indicators" and "KPIs examples" and display important short and long-tailed keywords or questions that users are asking: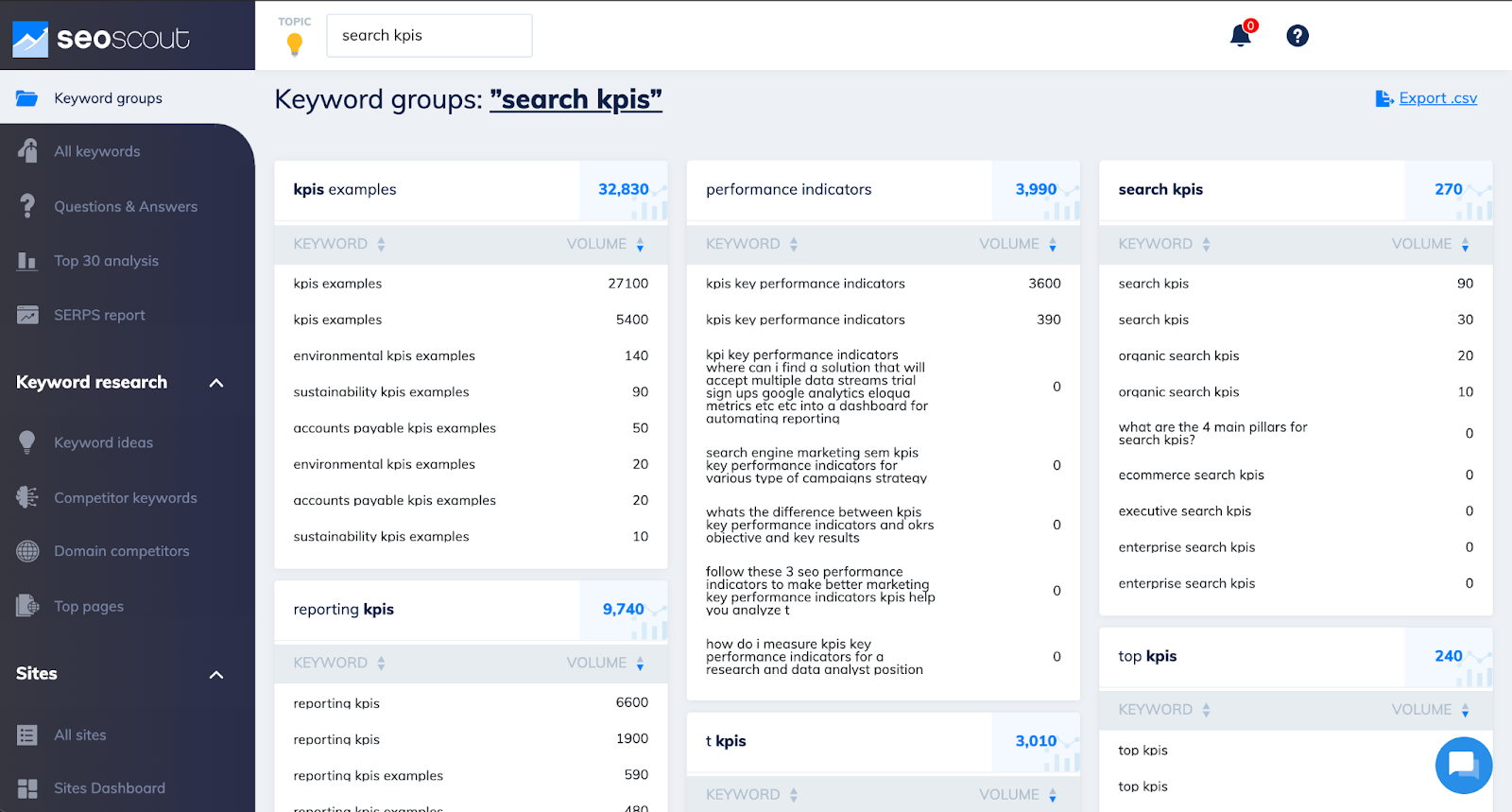 Examining these keywords gives you a preliminary idea of what to add to your content and how to organize different sub-sections. Some keyword groups may differ enough to have another blog post dedicated to it.
Questions & Answers Tab
The
Question & Answers
tab is uniquely specialized for long-tail, question-structured keywords (unlike Keyword Groups, which also included short-tail keywords). Again, by inputting your keyword–let's bring back "search KPIs" as an example, SEO Scout will show you the most relevant questions people are asking: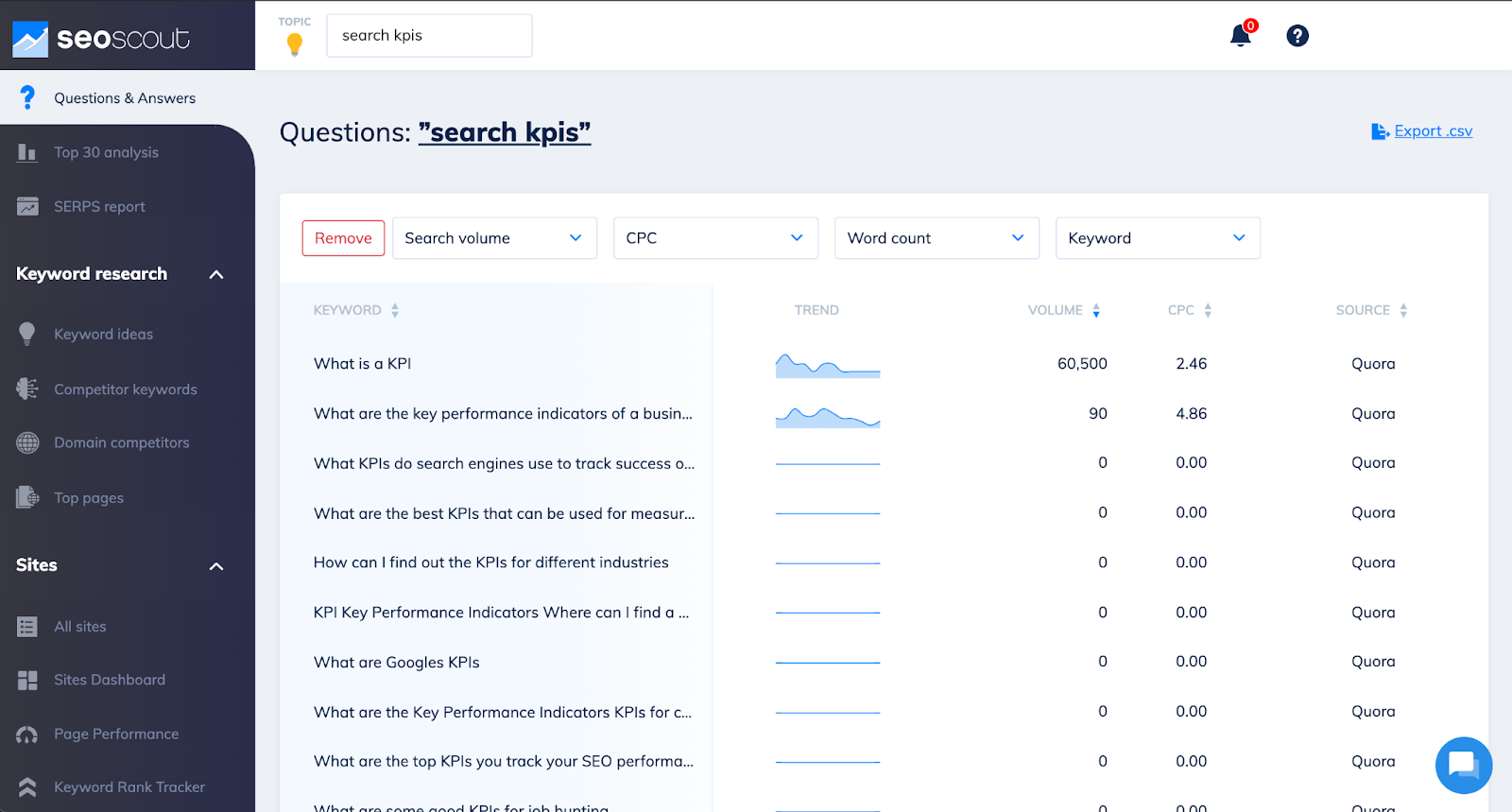 Competitor Keywords
Sometimes, you'll miss some keywords that your competitor is ranking highly for. With SEO Scout's competitor analysis tools, you can determine which keywords you've yet to rank for and build topics around them to attract organic traffic. Don't miss out on valuable impressions and clicks.
Surf Reddit, Quora, and Other Online Forums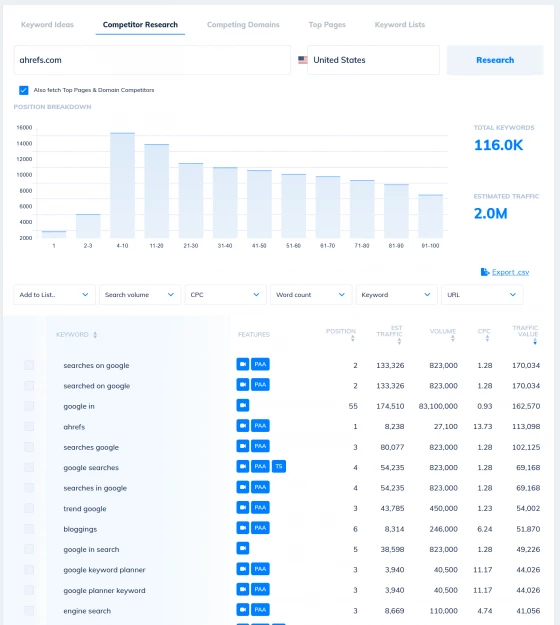 One of the best and free ways to get new content ideas is by simply surfing Reddit, Quora, and other niche forums that talk about your industry, product, or service. Look into the conversations, what are people asking? What's trending with the most upvotes? Build optimized content around them.
A Sustainable Content Creation Framework
You've been shown some very effective ways to get relevant content inspiration. But, remember that consistency is important. A well-planned content creation pipeline will help streamline your online publishing process.
Build a Topic Cluster Blueprint
Keywords serve two purposes:
Boost your content relevance with Google by implementing them
Give you topic ideas
We're here to talk about the second point. Again, with one of the few ways we showed how to research keywords, you find topic ideas. Each idea should correlate to an overarching subject.
So, let's say you're talking about SEO. From keyword research, some correlating topics may be: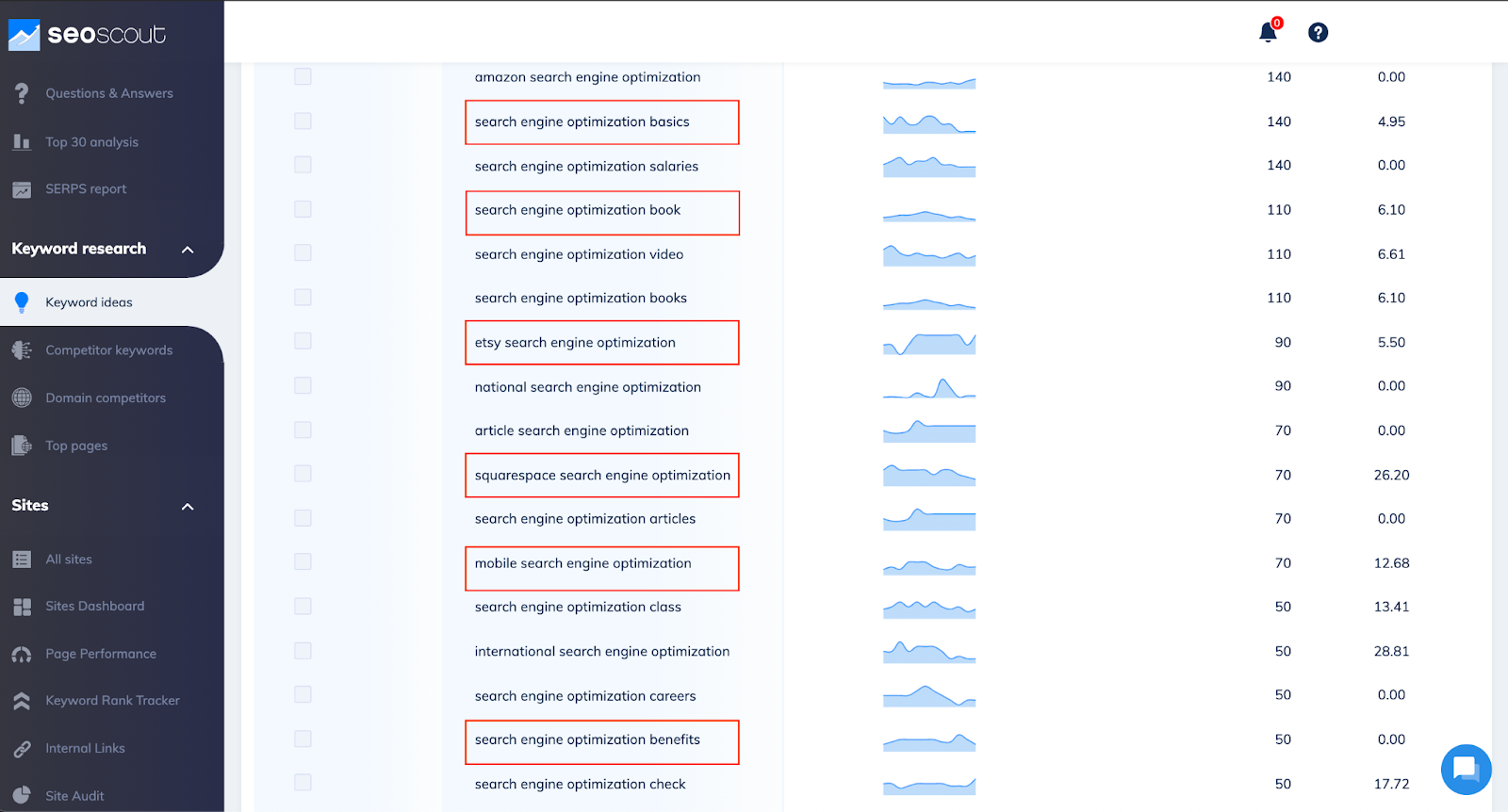 Frankly, every keyword idea you see from that list can be made into a related topic. But, for simplicity's sake, we can brainstorm some topic headlines for the keywords outlined in the red boxes, and then send them as a topic cluster to the content strategist to whip up outlines; look:
SEO for Dummies (the basics)
5 Best SEO Books to Become an Expert
How to Optimize Your Site for Mobile
How to Optimize Your Squarespace Blog for SEO
5 Major Benefits of SEO
6 Best SEO Reporting Tools
Many keywords will generate hundreds of long-tails like in the screenshot–all of which you can derive topic ideas from. After finding them, you want to organize them into a keyword topic list (available on SEO Scout–look back at the vacant light-gray boxes to the left of the keywords in the screenshot above). Or, if you're a more visual person, you can create leverage mind mapping tools.
Create an Editorial Calendar to Assign Responsibilities
When you leave no gray areas for responsibilities, your team will be able to create phenomenal pieces of content. An editorial calendar is a way for you to schedule when content gets published and who works on what. A documented roadmap for each piece of content is great for consistency.
Involved parties may be (even better if they're multi-faceted, like an SEO Copywriter):
Content Strategist comes up with topics and respective outlines
With SEO Scout's Content Planner, you can create keyword and query optimized content outlines and save it for later: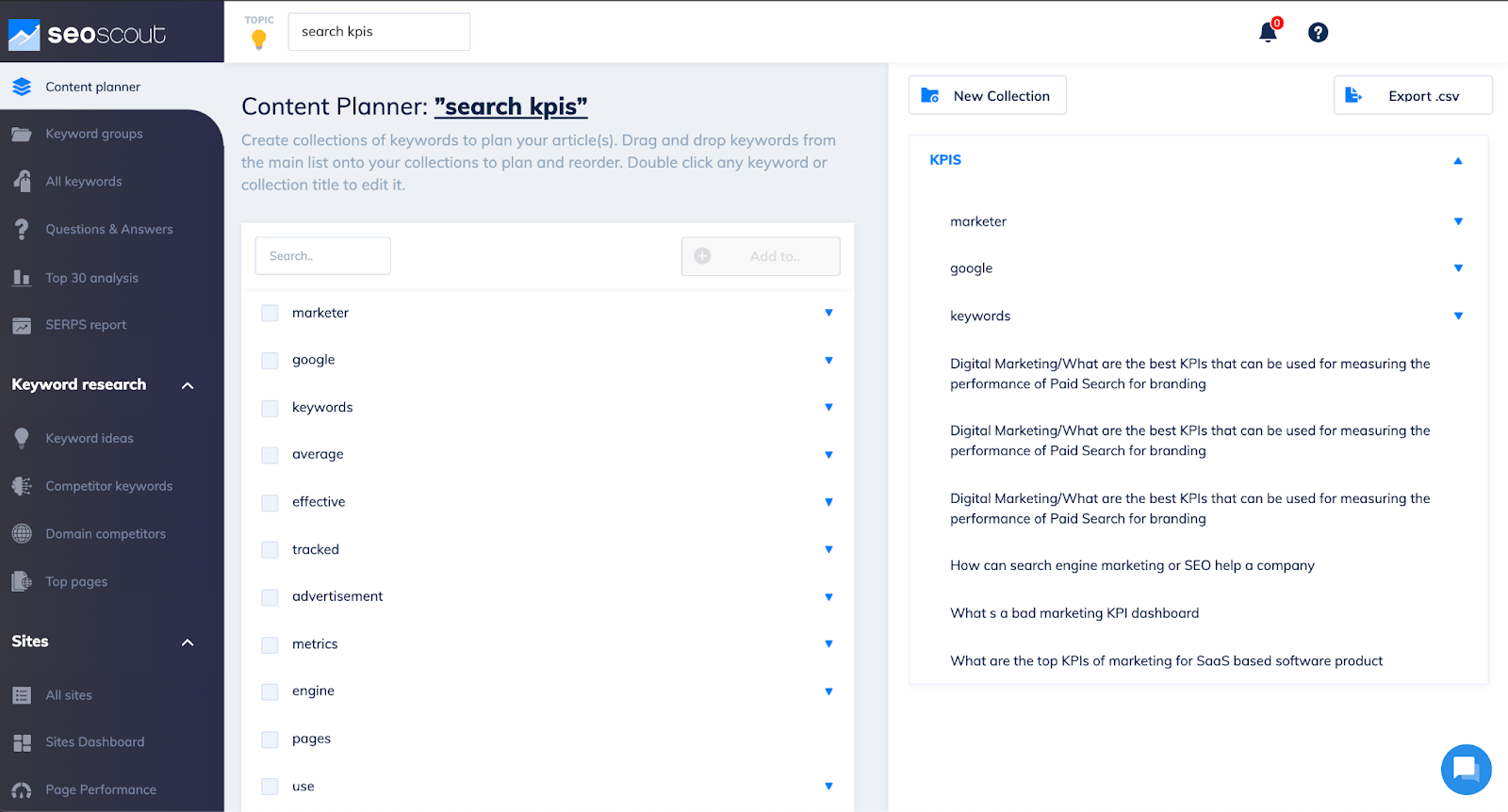 Copywriters who write in a brand-consistent, engaging tone
SEO professionals to ensure articles are optimized with keywords, headers, meta data, internal links, and even backlink negotiations. Learning an SEO reporting tool like SEO Scout can arm your team with valuable insight without the hassle of paying a specialist.
Editors to fine-tune the piece and follow it through publication
Subject matter experts who fact-check/add credibility to the information
Translators to serve diverse audiences
Designers to complement the written piece with aesthetically pleasing designs/images
Social media marketers to promote the article to different social media channels
Best Practices for Quality SEO Content
We know that search engine optimization means implementing keywords, backlinks and internal links, back-end meta configurations, and quality content–but what does the quality aspect mean?
Based on tons of experimental research, there are some general best practices you can follow to ensure that you're creating new content with quality:
Optimal Word-count Length
Although there is no "perfect number" for word length, Google doesn't like thin content–that's 300 words or less. Longer articles (2100-2400 words) perform best since they tend to rank for more queries–so long as you know which queries to optimize for.
Search Console or SEO Scout can help identify popular short-tail keywords and long-tail questions you can revolve your content around.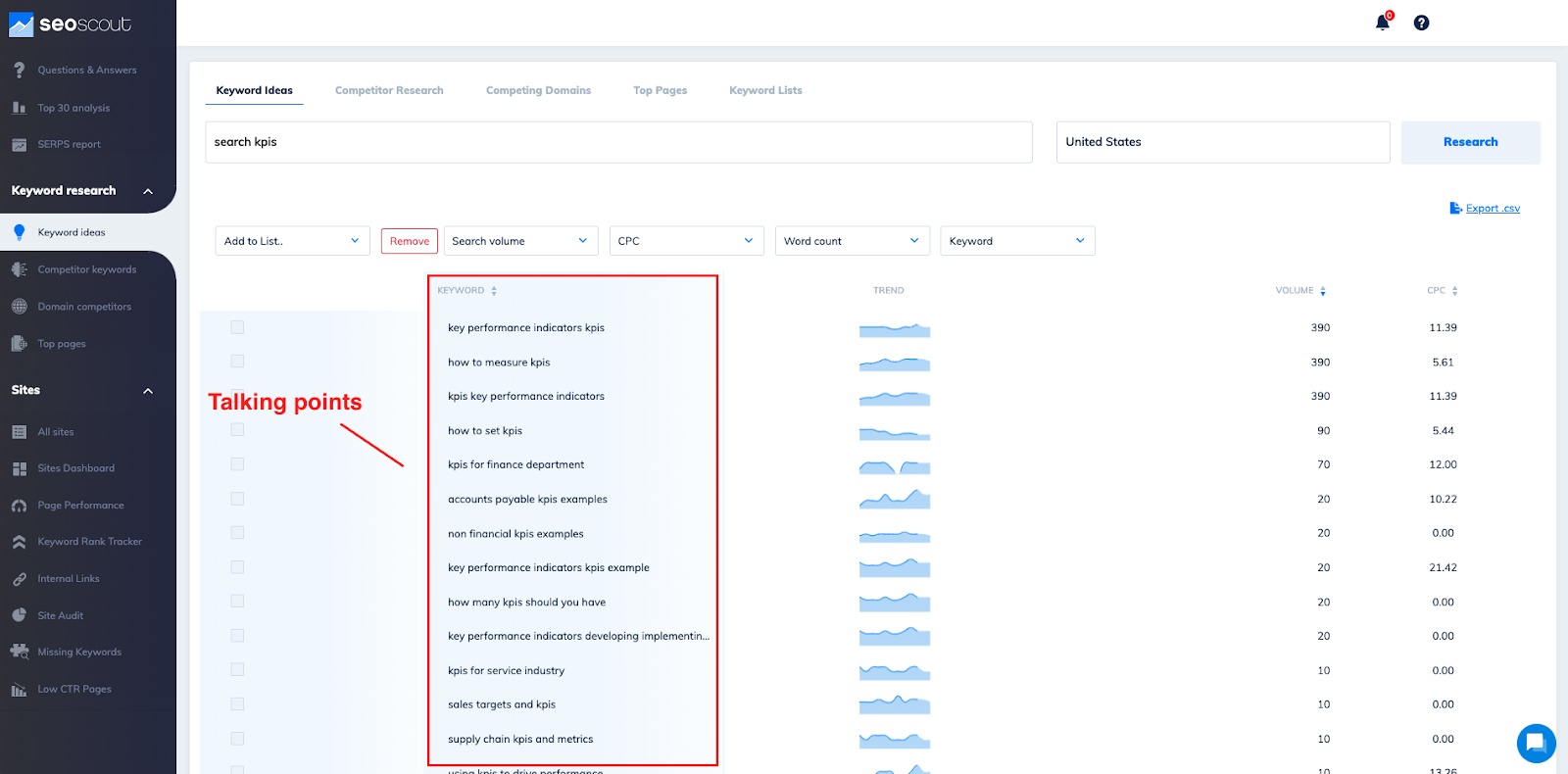 However, your word range will primarily depend on the topic. A blog post on "how to treat a sore throat" doesn't need to be 2300 words but instead, 800-1000 words. Google knows this, so don't try to fool the system. Readers won't stick around to read that much content.
How to Find the Optimal Word Length for Your Blog Post
To find your optimal word length, you can analyze top-ranking competitor articles on the same topic and see how long they are. But, finding the average word count between all of the top articles can be tedious.
You can save time finding your optimal word-length range through SEO Scout's Content Editor. It takes the average word count of the top-performing articles and gives insight on high-ranking keywords from competitors that you can implement in your own content, too.
Readability & Format
How easy is it to read your content? Does it flow naturally? Do readers have to reread a sentence thrice just to understand it? The readability of your written content is critical because if readers bounce, your search rankings will falter.
Along with simple language in a conversational tone (easiest to read), good article formatting (with appropriate headers like H1, H2, H3…) gives your readers–and Google–a clear and intuitive structure to read through.
Keep the Audience in Mind
Combined with easy-to-read, data-backed, and brand-consistent information, creating novel content with a target audience in mind like their gender, age, and interests helps you adapt your writing style and advice.
That will create truly share-worthy content–which will generate backlinks. And, to onboard new members, you can find new ways to pitch your content to get a backlink from a site that has a desirable audience.
You also have more control over adding relevant internal links–so ensure that you're linking related content your readers can learn more from wherever there's an opportunity.
Parting Words
You made it to the end. Congrats! Remember that posting SEO content consistently is a great and organic way to increase your brand's visibility, build trust with your audience, and increase leads and conversions cost-effectively.
Now that you know how to mine new content ideas through SEO Scout, we're confident you'll have no problem building topics around keywords. Your pieces will undoubtedly be of the highest quality since you're aware of the best practices like optimizing word length, readability, formatting, keywords, and linking.
If you're still not sure about our content opportunities filters and keyword research tools, give SEO Scout a try for 7-days free to help you brainstorm golden content ideas and watch yourself pump out new content ideas like magic.